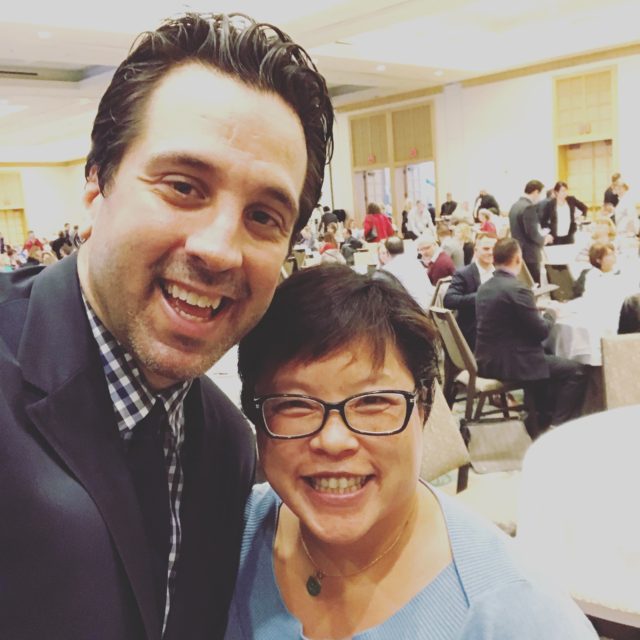 Best experience ever… Let me explain myself. There is no question that having a selfie with George Couros (@gcouros)… the author of The Innovator's Mindset was a highlight, but there is more to this professional learning experience. I was so stoked to see and meet George. I've read his book a few times and recently participated in #IMMOOC (Innovator's Mindset Massive Open Online Course) Season 3. I am aligned to his message. I love the idea of having a school hashtag, using Twitter to make my professional learning visible, and doing what's best to serve students to support their learning. I am all-around that like BACON. George was incredible to watch and listen to at the BCSSA Fall Conference. I love his energy, enthusiasm, and passion for innovation and student learning. My favourite memory of that day was him REMOVING BARRIERS.
Let's start from the beginning… I'm a HUGE fan of George and Sarah Garr (@garr_s) from my PLN mentioned to me on Twitter that he was speaking in Vancouver this month at BCSSA. I could not miss this opportunity and contacted my EA from the Board Office to sign me up. I was so stoked. The night before the conference I realized that I did not have email confirmation to attend this conference. I could not find it anywhere… I was so bummed and wanted let George know via Twitter DM to postpone my selfie opportunity with him. Yes… no shame… I kinda cyber-stalked George via my #bcedchat colleague and friend Bryn Williams (@brynmw) that I was interested in getting a selfie with George (and Bryn too). They both agreed but now I was afraid that I might not be going.
Online registration was closed. My EA was non-responsive (as she should be because it was 10pm at night). And, I was reluctant to contact senior staff because the admin team were going to be team-building and learning together at this conference. I just wanted to give George the courtesy via Twitter (after all that subtle selfie cyberstalking) that I would not be there. I did not expect him to reply. I just wanted to ask for a selfie rain-cheque. Do you know what happened? George replied. I expressed my sadness and the possibility of not being registered. He asked about online registration, but I pretty much conceded at that point in time. He said that he would make a few calls to make this happen for ME.
I replied, "Are you serious?" I could not believe it. He asked if I was willing to register onsite. I said, "yes." He then said that if I did not hear back from him later that night that I was in. Wow. Even the gesture was overwhelming. Woohoo. I was pretty satisfied at that time even though I was hoping not to hear back from him… but I did. He said, "You are good to go." Whaaaatttt??? I was floored yet so excited. He replied to confirm. Wow. He did it. He removed a barrier to my professional learning. I was so wowed. George is the real-thing. This is an exemplar of practicing what you preach. As it turned out, I was registered for the next day and my EA corrected that via email that morning.
Up and ready… I caught the first ferry (aka. 6:20am, up at 4:30am), bussed it into Vancouver, and walked to the hotel. I was prepared with my story (aka. sequence of events) to clarify my registration for that morning. I started to tell my story at the registration desk but my name tag was given to me with a smile and that was it. Wow, it happened again!!! My registration was settled by the time I arrived at the hotel. I got there in time for breakfast and bumped into Bryn in the foyer. We got our selfie. I was looking forward to hearing George speak. As it turned out, I bumped into many friends at BCSSA. It's nice to reconnect with kindred spirits. I also learned that George contacted one of these friends the night before who gave me the thumbs up. I felt so loved.
All of these barriers taken down in front of me. I've never experienced this before. Sounds strange, I know… but, it's true. I have either persevered, avoided, or quit due to barriers. I never had anyone explicitly remove barriers for me. I didn't even ask, but really hoped it would happen… and, it did. I was not disappointed. George's opening keynote was AMAZING!!! His book is incredible, #IMMOOC was awesome, and seeing George LIVE was inspiring. I felt validated. He is a TRUTH TELLER. I loved how he used storytelling, personal experiences, professional experiences, videos, photos, and quotes to send a clear message to SERVE students, use technology, and create space for student learning. He even called me out during his keynote, "Where's Dr. Christine Younghusband?" and referred to this story to use Twitter and make our professional learning visible.
THANK YOU GEORGE. This was a memorable day for many reasons. I am learning.