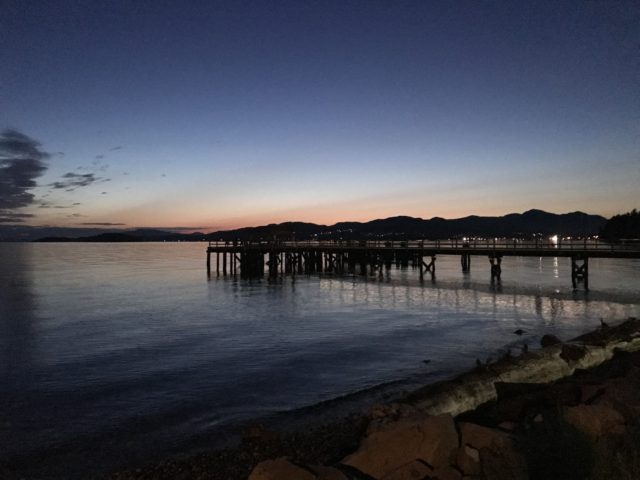 JOY (noun): a state of happiness or felicity.
Here I am. HAPPY. I was driving home tonight… alone… knowing that my kid was at a friend's place and my husband was out of town. The only one waiting at home for me was my dog. So I could not resist and pulled aside to stop at Davis Bay and take a short walk along the pier and ocean. My initial intention was to take a picture… and I did… but I also wanted to embrace this moment of solitude to reflect and be grateful. Life is good.
It's been an extraordinary week (so far) and I met up with a few friends from past and present over the past few days. Some are visiting the Sunshine Coast while others live here. I'm returning back to Prince George soon and connecting up with different people before I go to the university to teach is important to me. HELLO and GOODBYE. I would say that the people I've met and spoke to over the last few days have been serendipitous.
I am reminded of where I came from and where I am today. I would consider it a real-life meta-reflection via face-to-face dialogue and connection. I reunited with folks from my teaching days in the 90's; I spoke with folks from my school board days; and, I met up with a student from the university I teach at. This is not to mention I was also connecting with a friend and colleague of mine who was with me throughout all these stages of my teaching profession. We call ourselves Grass-Fed Butter and Margarine. I feel very lucky.
Focus on the feeling… It was fun reminiscing with my former colleagues and friends of teaching in the late 90's. It was early in my teaching career. I remember very vividly the people I taught and taught with. I have very fond memories and I believe I was the most autonomous and effective as a teacher at that time. We were a community… or dare I say, a FAMILY… who had FUN at our workplace. We loved what we did and we loved the students, even though it was challenging as heck. In the end, we had each other's backs.
I loved laughing with my friends at OUR 20 year reunion and realized that none of us are teaching at that school anymore. Times have changed and we moved into different directions. That was clear evidence of growth, but we were true alumni. What I realized that day is, even though there were only a few of us meeting up that day, I remember every teacher's name. They had a lasting impact on me and who I am as a teacher.
Meeting up with a couple of folks who served on the board with me was also telling. I was very happy to see them and to see how they were doing, but I learned that this chapter of my life is also closed. I have moved on and I am back to my calling of teaching and being an educator (and researcher). Meeting up with one of my students on the Sunshine Coast was spectacular. We had a brief conversation in Prince George about the summer, camping, and presence of wildfire smoke. A few months later, my student and their family arrived on the Sunshine Coast to camp and immerse themselves in this amazing place.
Connecting, reminiscing, listening, laughing, and conversing with these people this week made me realize that my "midlife moment" is over. I know what I am meant to do and want to do. I understand my why and I was reminded today that THE MAKING COMES FROM THE BREAKING. I was broken a few months ago. I will own that. I am grateful to have people who stood beside me, particularly Grass-Fed Butter. I took the time to heal. But when you are broken, as painful and agonizing it is, a new chapter is just beginning.
Today… August 14, 2019… I AM HAPPY. Revelation. Thank you for everyone who have been integral to my personal and professional growth and development. There are many. TRANSFORMATION can be very difficult. Think of a butterfly. Once the caterpillar has fed, grown, and fully developed… it pupates in a chrysalis. When metamorphosis is complete, the adult insect (aka. butterfly) climbs out, it's wings dry, and flies off. It's tough work. There is ongoing growth. After a brief incubation time… there's a new you!!! #yayme