Day 15 (of 187) – September 24, 2018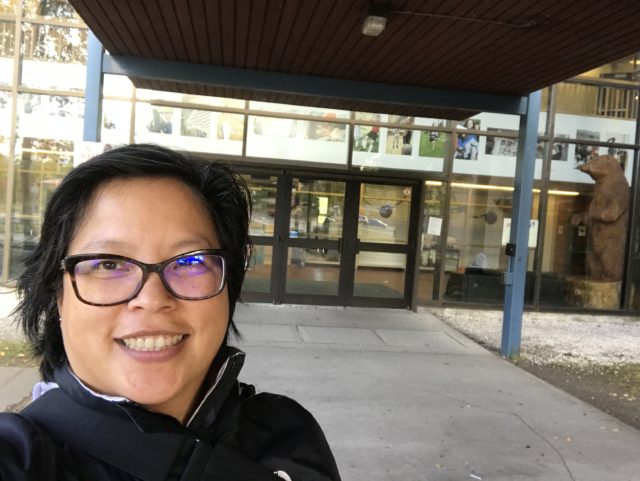 Whew… what a day!!! HELLO MONDAY!!! What can I say about today's daily blog of learning is… I LOVE PEOPLE!!! It's been an incredible day. First, I would like to say that I am very grateful that I can start my day at a later time. As mentioned in earlier blog entries… and likely in future blog entries… I'm an late to bed and late to rise kinda gal. For example, I much enjoyed reading a few articles before bed last night. Gets me thinking in my REM sleep. So, I took a slow start this morning knowing that I would be busy once a get to my office and I had a few meetings scheduled for this afternoon.
My time spent on "the floor" at UNBC this afternoon went by in a blur. I arrived. Got settled down and started to get organized. I unpacked my bag, got my laptop set up, and started to put stuff away. I also started working on my bulletin board outside of my office. I would like to keep my bulletin board dynamic and information based. Hopefully, it will be focussed on PROFESSIONAL LEARNING once it picks up its rhythm. Last week I took a "poster poll" about putting the UNBC School of Education on social media. My plan was to have that set up today before this afternoon's meeting. This week, I have UNBC's Orange Shirt on display along with information about MakerSpace and SD57's Learning Commons.
Before I could get my bulletin board redesigned for this week, I had numerous conversations with faculty, staff, and students. Did I mention that I love having my door open? I love asking for help, sharing ideas, and listening to inspiration. Having my door open helps me to get to know "people on the floor" so much better and organically. I love connecting with everyone… face-to-face and online. I was emailing too… and yes, trying to get UNBC Education on Twitter, at least. Before I knew it, 3.5-hours had passed and I had to race down the hill to meet one of the UNBC Education EdTech Instructors at Prince George Secondary School. Yup. A great time for a selfie (see above). You're welcome.
Not only did I leave "the floor" inspired… I left PGSS inspired as well. I love meeting new people and what I loved more is bringing people onto the team. This is incredible collaboration and the meeting of the minds. I love the direction that we are heading and I love how those I have met and collaborated with are open and equally excited about next steps and working together to CREATE a cohesive and coherent teaching and learning environment. We chatted about e-Portfolios, practicum, ongoing self-assessment tools, peer feedback, and competencies. The hour meeting only felt like 20-minutes… and, this guy is from the north end of the Sunshine Coast. I LOVE MAKING CONNECTIONS. Can you see why I chose today's blog title? This is only the beginning of my day.
On my way back to UNBC… and learning how NOT to use my GPS around Prince George. That's another learning journey I am on. I bumped into another person en route to the Teaching and Learning Centre who I just met the other day. I loved talking to her. Why? She's a math person and her passion is math education. Hello? Are you in my tribe? YES YOU ARE. Moving forward… and walked into the building. Before heading up, I grab a coffee at "Degrees Coffee." They were close to closing down, so no drip coffee available. No worries. Grab an Americano… and a great conversation with the barista. Wow. She made my day… or at least added to it… along with my bag of chips, of course.
Off to my next meeting… yes… you guessed it. THE EDUCATION CLUB MEETING. We are starting it and and it's 100% student driven…. and I support this club 100%. Seems like a winning combination. A pretty good turn out… temporary governance figured out with fair representation and a mutual agreement to have a by-election in January. Moreover, the students decided to have their first event NEXT WEEK on October 1st. A PIZZA PARTY. Although I'm out of town… sniff, sniff (poor me)… the students are stoked. Best of all, the Dean and Chair, Shannon, was at our meeting and offered to support The Club's first two events. AWESOME!!! I am grateful for this support. Furthermore, I am proud of our students for getting this started and brainstorming ideas to connect, inspire, and share.