Reflecting on 2019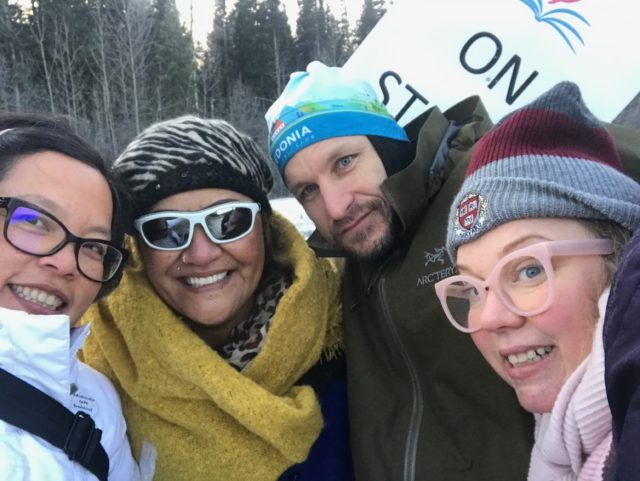 Wow 2019… You were full of surprises. I remember when my mom passed away more than a year ago, I was ready for my life to change. I was done with what I was doing and was ready to do something different. Having the grace and privilege to take care of my mom during her last 20-days with us, I was not prepared for the kind of changes that were set ahead of me AND I know that there is still more change to come in 2020.
It's been awhile since I've last blogged and admittedly, I've been uninspired. Last month, I've been catching up, marking papers, and anticipating the "family holiday." Take it a step further, I mulled over how I wanted to write my last blog entry for 2019. I'm at this for the third time today (and it's almost 2020). This is not exactly a free-write. Editing required. Rethinking and reconsideration necessary. I am making minor revisions with each iteration. I've read a few comments on social media where some have suggested that 2019 was a trying year and glad to see it go. I would not disagree. I will admit, 2019 was challenging but also eye-opening. If anything, I learned more about myself and what's important to me personally and professionally. As much as we relay the message in Teacher Education, WE TEACH WHO WE ARE from Parker Palmer's The Courage to Teach, my personal life has influenced my professional life and vice versa. They are one.
At first, I thought about doing a thorough year in review and selecting one photo from each month and writing about each month. MEH. I couldn't get passed January 2019. I have a lot of photos and could not decide. NVM. My next idea was to write about 2019 from two perspectives… a cup half empty and a cup half full… to compare and contrast. MEH. I could not write about the "cup half empty" without getting stuck in that mindset. No thank you. As much as I may want to delve into the details to appease my ego, that's not my VIBE and who I am. In this blog, I want to focus on what's good. A time for reflection is a time for gratitude… and so I've chosen to stick to my original model of blogging. I will choose a photo for inspiration and context, free-write, and what emerges from my writing will be what I will share because that's what I'm inspired to say.
The photo I have chosen above is the LAST photo I took on the picket line during the UNBC strike and job action in November 2019. I am with a few of my Daycare Picket Site Crew – Afternoon Shift members who graciously agreed to take a group selfie with me right before I ran across the street to catch the bus to Strike Headquarters. During the strike, I met some incredible people who teach and work at UNBC. I listened to their stories, passions, and love for their work. I learned more about the university, its culture, and why the Faculty Association was in job action. I also started to understand more about MY WHY and purpose in education and the work that I do (and will do). The strike offered me an opportunity to demonstrate leadership as picket captain but also a chance to create community, connection, and trust amongst crew members and others on the line. We were an eclectic bunch who supported one another and made the best of a challenging situation. I loved my picket crew. We persevered with grit and kindness.
The strike only posed a little bip in my 2019 year. It's the second Christmas without my mom. No double duck for Christmas dinner. My dad remarried, my marriage ended, and I failed to get a job I applied and interviewed for. Furthermore, I didn't get into a program I applied for, I opted not to apply for another job, and I turned down two speaking events due to job action and potential financial burden. On paper, these events and decisions seem bleak and unsavoury, but really they were signals telling me to take a different path, to do what I want to do, and to pursue what I am passionate about. Strangely, with all that is said and done… I am relieved. I have a new found freedom, independence, and autonomy I never had before. It's exciting and uplifting. I'm no longer distracted. My kid continues to be my first priority. Self-care, deliberate action, and building my self-efficacy are new priorities. I have clarity. I am happy. And, I feel more like myself. What a gift!!!
Although 2019 was filled with angst, stress, and massive change… it was also filled with opportunities, new connections, and learning experiences that are unique to the path that I am on. I am so happy to return back to UNBC for a second one-year term. We have amazing students. I am learning more about Teacher Education and contributing. I've made collaborations for research with other faculty from other universities and with K-12 educators. I have many opportunities to write and research. And, I love being being a part of both educational research and the teaching profession. This is a gift. I also loved working on the UNBC School of Education Leadership MEd Program Redesign Team and BEd Program Redesign Team, Open Schools BC math videos project, St. Mark's College CALR 526 and EDUC 420, and the FNESC Math Teachers Resource Guide revisions.
In the end, it did not matter what project or course I was working on, it was the people I met on these projects and the chance to work and collaborate with them were the most memorable and valuable experiences in 2019. I also appreciated the encouragement from my new learning network at UNBC (aka. my picket crew / colleagues) and from those who are currently in my PLN (professional learning network) in K-12 and higher education. I am in the WRITE place (lol). "Write" was my #OneWord2019. I had opportunities to WRITE in 2019. I have much more to write about… I just have to do it. One of my friends and mentors asked me a couple of months ago if I felt like a professor yet. I said, no. He said, I needed something to profess about. He always gets me thinking… and I think I've figured it out, but you have to wait for 2020. I'm pretty stoked though and it resonates with me deeply. I am on the right path and I have a learning community who support me. Another gift. My #OneWord2020 is TENURE. Even though I cannot achieve tenure within one-year and without being tenure-track, it's the intent. Looking forward to 2020.