Learning from the Line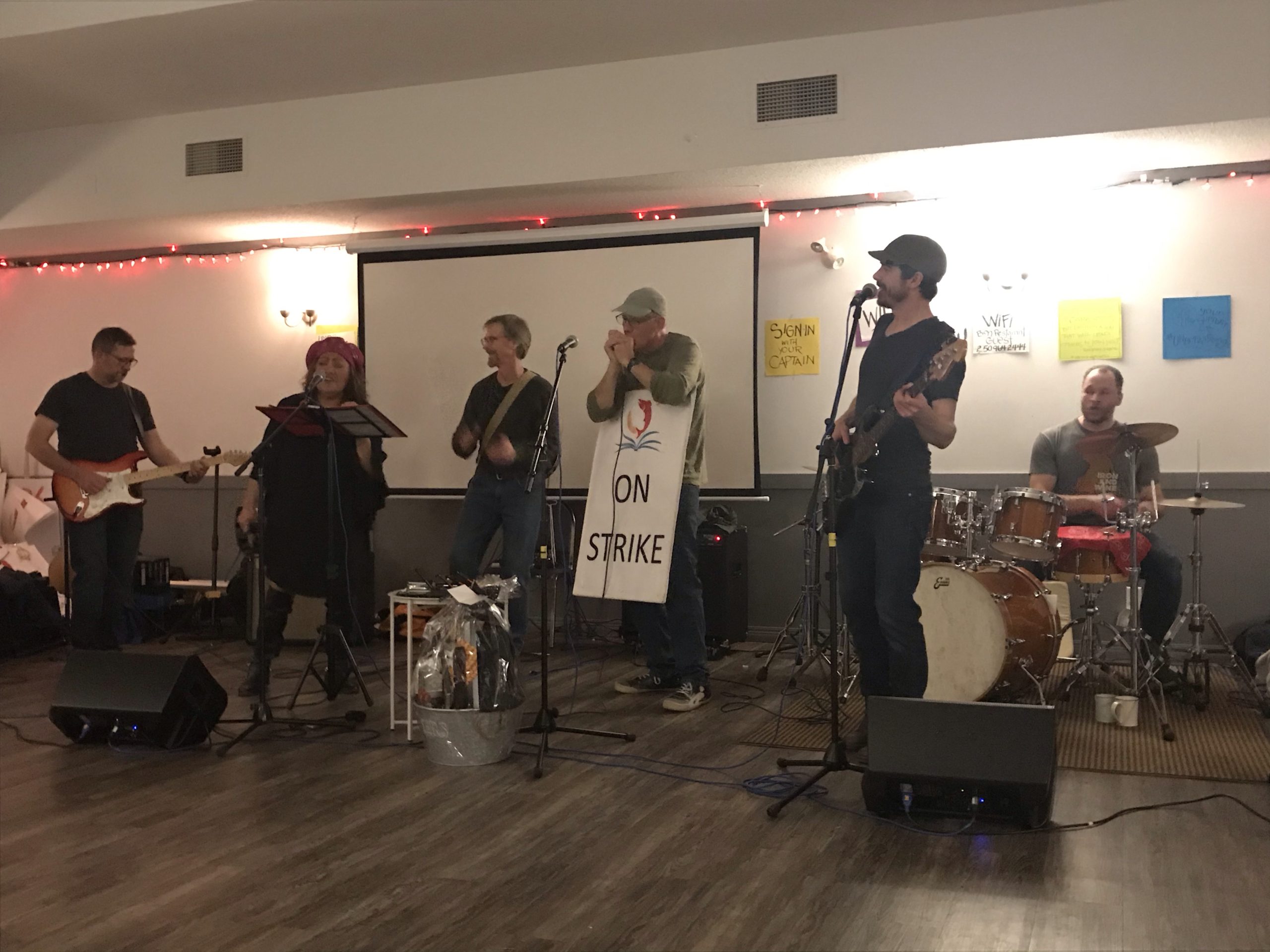 My sleep habits are out of whack. I would have never thought that I would be writing a blog post from my phone in my bed at 4am in the morning. I woke up just after 3am and I can't get back to sleep. My legs are aching. My stomach is unsettled. My brain is going a mile a minute. I might as well write a blog entry because yesterday (12-hours ago), the pickets for the faculty association shut down after 23 days of strike and 16 days on the picket line. We continue to strike as work to rule. Classes resume on Monday.
I never imagined that I would be back on the picket line after my 16-year career in K-12 public education. This time I was made picket captain because of my experience in K-12. I've seen and experienced job action from both points of view, as the employer and union. I was a little surprised about strike action at the university. It has a different vibe or momentum compared to K-12. Academics are bargaining with administration. The FA bargaining team is eloquent, thoughtful, and thorough. Much of what is being bargained directly affects me as contract faculty. This job action has been a learning experience for me. I learned more about the university in terms of politics, people, and process.
We can help but be siloed in our workplace situated within our own departments and segregated by buildings, rooms, and floors. On the picket line, there are no walls or departments. At the "Daycare Site," my crew members were from education but also from psychology, library/archives, biochemistry, political science, math, social work, and natural resources & tourism. Aside from the education faculty, I would not have met any of these people on campus and if I did, I would not remember. I met people on the bus, strike headquarters, and at different picket sites. I also met people between shifts, online via Twitter, and at our solidarity receptions. I stayed near my picket site for a majority of the time during the 3-weeks, but I started to get to know people and build relationships.
On the picket line, it did not take long to build a community. I adored the people who were assigned to my picket site. We seemed to gel over time. Some of us would walk and clock 15000+ steps, some stayed, while others split shifts with the morning crew. Regardless of our preferences, we seemed to establish a rhythm at our picket site that included a lot of laughing, dancing, and good conversations. I also met folks who work in the research ethics office who are willing to help me. I got to see the "human side" of faculty, students, and CUPE staff. I also met people from FA's from around the country as part of the flying pickets and my EdD Senior Supervisor from SFU came up to say "hi" with the SFUFA. I got to learn more about the history of the university, the passion and love these people have for their students and work, and what's at stake at the bargaining table. Things started to make sense because I am relatively new to the university.
My biggest impression about the university is THE PEOPLE. My first impressions of the town were significantly less rain, it gets super cold, and people are friendly. I am wowed by the people at the university and how incredible and resilient they are. Some of the stories shared are pretty exceptional, but not in a good way. As much as they love what they do, I listened to stories of trauma, operations, and workloads. The image I got was the university sitting on their backs. The university ranks #2 in the country as a small research university because of these people. How can we help these people help the university rise? There is a clear difference between thriving and surviving. The collective agreement, university budget, and PSEC restrictions are playing a role in this. I am so grateful for tenure and tenure-track faculty who are standing beside contract faculty, senior lab instructors, and librarians. That says a lot about the people at this university.
I loved it when my education students came up the hill to drop off food or coffee, to say hello, or to walk the picket line. I was so excited to see them but also reminded of the importance of RELATIONSHIPS. The students are part of this too. Although I will acknowledge that some are frustrated and given up, others have rose to the occasion to advocate and stand beside faculty during this labour dispute. For that, I am grateful.
I love the photo above. It's a beautiful exemplar of how people exceeded my expectations during job action. Aside from the amazing folks who are committed to the FA bargaining team and executive, some of the people I've met on the picket line are playing in this band. My mind was broadened and I love that we are more than just teaching and research. WE ARE PEOPLE with families, hobbies, and interests. They inspired me to go back to curling, which seems unrelated but it's something I love to do. I need to make time for it. I am also ready to start reading, researching, and writing in addition to finishing off my classes for this term. I can see why people stay at this university. They love what they do. I still don't know a lot of people at the university (or a Flying Picket said to me, they don't know you yet), but I am so happy to meet the people that I did.