Motivated to Write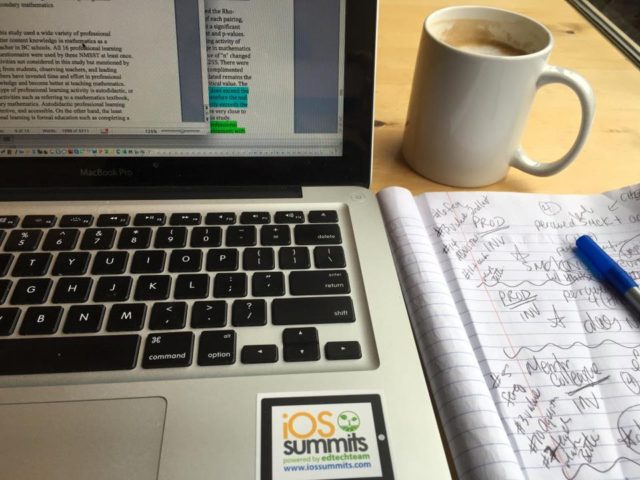 Ahhh yes… a photo from my wide collection of memories from my dissertation days. I can't believe that it's been over 2-years since I finished writing and defending my thesis. I still have to get it published as an article with my EdD senior supervisor at SFU, Dan Laitsch, but I have been paralyzed by the "imposter syndrome" ever since… or shall I say, it took on a new life. After the completion of my dissertation, I was a sessional instructor at SFU, then I took care of my mom full-time before she passed away, and now I am a term faculty member at UNBC in the Teacher Education Program and I teach in the MEd programs as well. I spent the whole last year trying to cope with living in a new city away from my family, learning the ups and downs of the program, and teaching/transforming students into educators in the BEd program. I've enjoyed my time but I know that writing and researching will be integral to my future as a academic at the university.
I'm one of those people… I have to feel it to do it. At some level, some would say "fake it until you make it." That's not my scene. Maybe it's because I'm too much of an extrovert who hates to lie. Who knows what my problem is, but I have been held back (internally) from writing and I don't know why. Some may call it "limiting beliefs" and well… I'm calling it, "Imposter Syndrome 2.0." I felt this way for quite some time during my doctorate degree… "Who do you think you are?" and I feel that way now. I do feel the excitement of research. I love the idea of taking the time to investigate something that you are totally curious about, ask a question, and then… answer it. In the doing of learning, you are collecting data, research the literature, and then synthesizing what you have found with what has been found to come to some conclusions, recommendations, and possibly more questions. I am totally stoked for that… now. You have to write about it. Document it. Share it. I guess this falls in line with, "make your learning VISIBLE."
I have had some "free time" lately to chat with colleagues in the field, make connections, and build my COURAGE TO WRITE. What I have realized is, everyone in my professional learning community at the university does this… and have experienced similar struggles. They have overcome these cognitive and emotional hurdles and learned how to find their voice in the field. And yet, they are just like everybody else. I know… that sounded strange… but I guess I have this perception of "what is"… and I need to take the time to actualize "what is" and how I fit into "what is." I have 2 articles to publish… I have about 5 mini-projects I am involved with that require ethics approval, research, and writing… and I have a people in my life who are encouraging me to take the next step. I write this blog because I FEEL READY!!! Yes, we are back to those "feelings" and truth… it has to "feel" like the "write time." LOL. I just caught myself in that. I am motivated to write.