Belonging to Myself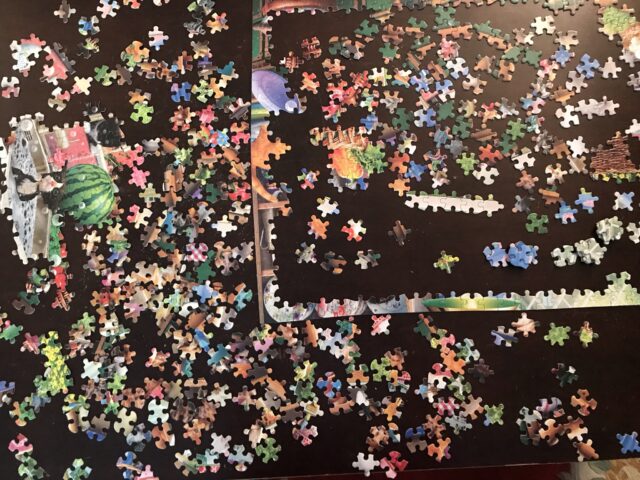 Week 73 – August 8, 2021 – Figuring things out
I love this image. It is a metaphor of what is. My daughter and her friend were working on this the other day. Her friend kept her company during her drive to Prince George and stayed for a few days. They bought a puzzle to complete. I was somewhat surprised that they did, but enamoured by the patience and persistence required to participate in this endeavour. The puzzle process did start with some frustration and uncertainty, but overtime they gained momentum and finished. They were motivated to complete the puzzle and proud of their accomplishment. I was proud too. Soon after, they bought a second puzzle with more pieces. This was admirable, for sure.
For me, the chaos of a puzzle "in progress" depicts how my life feels right now. I have the border put together and some images formed, but I am no where complete. It was a challenge to move what I could take from my home, pack a U-Haul truck, and drive it back to Prince George. Thank goodness my brother was wiling to help me and made the trip feel like a mini road trip. We dumped boxed at the university and I hired movers to "lift heavy things" up three floors into my apartment the next morning. I was frantically unpacking, but also learning more about Prince George with my brother. I needed the company and support. My daughter drove up a few days later with her friend. I am so thankful for her friend for keeping her company.
I unpacked boxes at my apartment and office. That took a few days. It's a lot of work. I am super tired and achy. My kid was unpacking her stuff too while her friend was here. They explored Prince George too. After her friend left yesterday morning, she finished unpacking later that night. Slowly but surely, the pieces were fitting together. The feeling was amazing. I loved how everything seemed to fit and have its place. When all was said and done, my daughter returned to the second puzzle, I painted my toe nails, and the vibe in the apartment was calm and still. I was so impressed.
In the meantime, I was also trying to write and complete a manuscript to complete and submit, learn something new for another project I am working on, and organize and fall start up event that needs some collaboration but it is the summer months. I also need to start writing my course syllabi, read some books, and get writing on some other projects before the fall starts. I am so tired and exhausted, but also satisfied and content. Not to mention about my personal life which will require time and attention. I can see why some things are not done, but it is a work in progress. Patience and persistence. There are many pieces and it will get done with time and deliberate action. Soon, I'll be ready for the next puzzle that has more pieces.
What I do know for sure is, I need to believe in myself, trust my instincts and intuition, and belong to myself. I am not here to seek approval from others or to impress them. My job is to ensure my kid is safe, I am happy, and my actions are aligned to my beliefs and values. I can only belong to myself. This belonging required trust, integrity, and faith. I can do this and I am on the right path. There will be bumps in the road (i.e. some pieces don't fit), but I will persist and be patient with myself and others. I need to remember the feelings of joy, the satisfaction of hard work, and the love and passion I have and bring to the work that I do. In the end, that's what it's all about.