The Move is Complete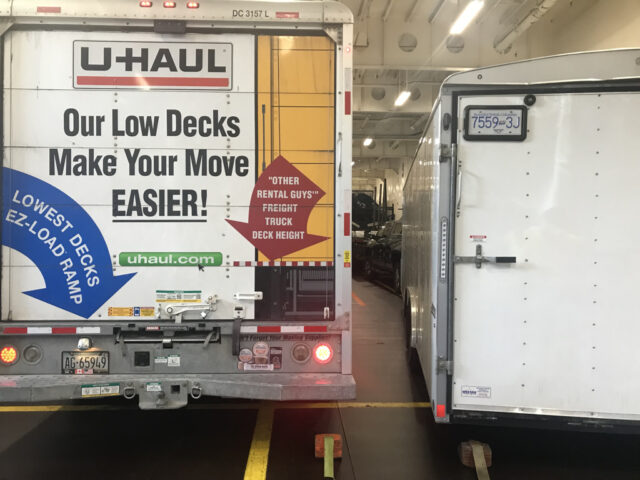 Week 72 – July 28, 2021 – Starting All Over Again
Today was the first day I've had a good night's sleep. I really needed it. It was an amazing feeling to wake up in my own bed, at my own place, with everything in its place. Gawd. I don't like moving and I don't like driving a U-Haul truck even more. I did not think I could do it, but did. Here's a photo of being the LAST vehicle on the 730am ferry from Horseshoe Bay to Langdale. First of all, I missed the last ferry the night before because for some reason I thought I could drive from Hope to Horseshoe Bay in 1.5 hours in this beast. That decision is called denial. I was slow going to Quesnel from Prince George. I was slow from Ashcroft to Merritt. And, I was slow on Hwy 5 and it was getting dark. Are you sensing a theme? I missed the ferry by 10 minutes.
The beast and I were trapped between the iron gates and plastic pylons. We made a U-turn and headed back to Burnaby where I slept at my brother's place for a few hours. I left promptly at 5am to avoid traffic and get gas. It was also a Friday, which meant "ferry traffic." At 6am, I bought my ticket and was told that I already missed the ferry. Crazy, but it's true. COVID-19 rules are loosening and people are travelling. So, making the ferry as the last vehicle was an AWESOME ferry experience, but also a beautiful metaphor as to how the move went. Lots of uncertainty, problem solving, and pivoting. In the end, all of the pieces landed in the right place. I packed up the truck in 2-days, found a mover in Prince George, and my twin brother drove most of the way to Prince George. Thank goodness because I had only one hour of sleep.
We had a good time on the trip up and fun exploring Prince George after the truck was unloaded and the beast was returned. We visited local restaurants en route and in Prince George. I learned that I really enjoyed maple lattes and that my introverted twin brother was a lot more adventurous than me. I'm the extroverted conservative one. He was always supportive and reassuring. I appreciated his curiosity and creativity. We had a tonne of fun and I loved his "planning" perspective on Prince George. It was insightful and informative. All of my friends have been supportive and I need that as I venture forward with next steps. I am starting all over again. The move is finally complete. It only took me three years, but I look forward to what's next.
July 29, 2021 – Lessons that I have learned from driving a U-Haul.
I can drive this beast (even though I did not want to).
Expertise is developed over time with deliberate practice.
Walk through the fear with full trust and belief in myself.
This experience is a metaphor of my research and career.
Be willing to ask for and accept help from others.
I am safe, able, and open to learn from my own experiences.
I can rely on my brother (and family) for help and support.
I can be alone with my thoughts for long periods of time.