Welcome Back to School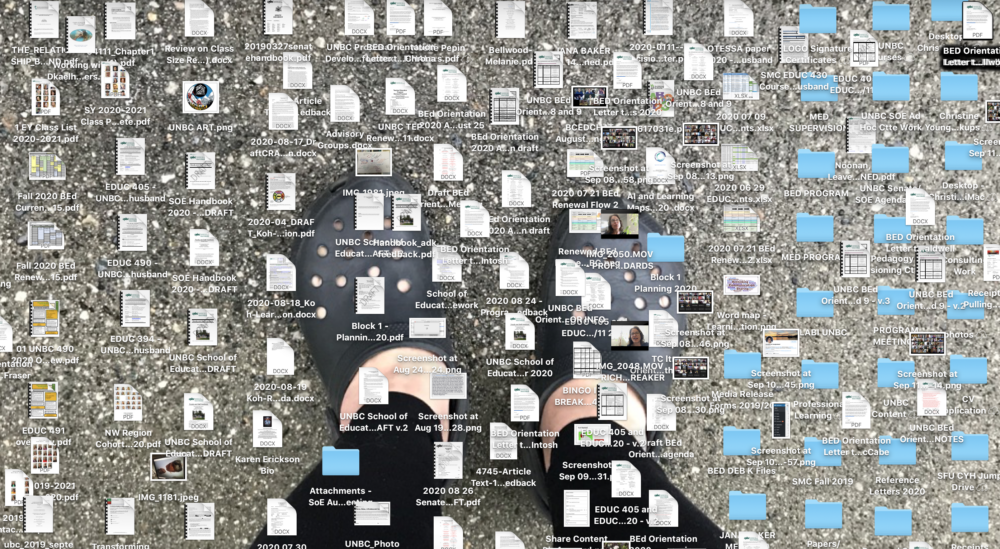 Week 26 – September 11, 2020 – 4 days of Orientation
Here's a beautiful pic of my desktop. Never mind the number of tabs I have open on my chrome page and the number of email tabs I have open on my desktop. Truthfully, there are just as many as the number of icons seen above. Gah. Is all I can say. At one level, I need to KonMari my computer. On another level, this represents the month and a half of work simmered down to 4-days of B.Ed. Orientation. The first two days with all of the teacher candidates took most of my time and the last two days was with the new teacher candidates in the renewed program. I still have not planned or prepped for my own classes because I was so focussed on these 4-days to endure we had an exceptional start to the school year for all of our cohorts.
The first two days were difficult to assess for me. I felt more like the wedding planner. It's strange trying to plan and organize a cohesive, meaningful, and relevant learning experience when you have to implement the entire time ONLINE on Zoom. It was not my intention to subject the teacher candidates to early onset Zoom fatigue, so it was important to structure the day and learning activities to be interactive, short, and varied. We had the Lheidli T'enneh Elder Darlene McIntosh welcoming the teacher candidates to the territory, opening keynote speaker Jo Chrona from FNESC, and closed the event with UNBC First Nations Centre's Bev Best as the closing keynote. UNBC faculty and staff facilitated workshops ranging from technology, walking curriculum, and the library. And, my friend Janet Chow from SD41 talked about FIPPA.
The strange thing about education is, when things go well, you don't hear anything. I asked for feedback and overall it seemed positive. Of course as the "wedding planner," you see all of the "mistakes" or places where it could have been better or that you had to change things on the fly to make sure the day would flow as close as you can to the agenda and you're not going overtime. There were moments where the time scheduled fluxed, but in the end, we ended both days on time. I was so happy that the first 2-days of orientation were over. So much stress. So much time spent on making connections, reaching out, and making sure every felt good about what they were doing and contributing to the day. EVERYONE did an excellent job.
The last 2-days were spent with the new teacher candidates in the Renewed B.Ed. Program. It was so nice to meet them in person (on Zoom). The Zoom room shifted from 80-90 participants down to 30. Seemed more reasonable. I had to prep for these two days even though I had previously outlined the agenda. It was the first time I made a PDF (well, Google Doc) to provide two asynchronous assignments for my EDUC 405 course on e-portfolios. The last 2-days were meant to describe the "Interwoven" Courses of the Renewed B.Ed. Program of EDUC 405 and EDUC 446… but also create community. Oh my gosh… I am so proud of our new teacher candidates but also impressed. you can see online that "Our Learning Community" was forming. By the end of these 2-days, the teacher candidates were willing to have their photos taken, have those photos posted onto #UNBCed social media, and one of our candidates created this image (as envisioned by Dr. Tina Fraser) of our learning community. It was an incredible way to end the week. Thank you Teacher Candidates!