Think Long Term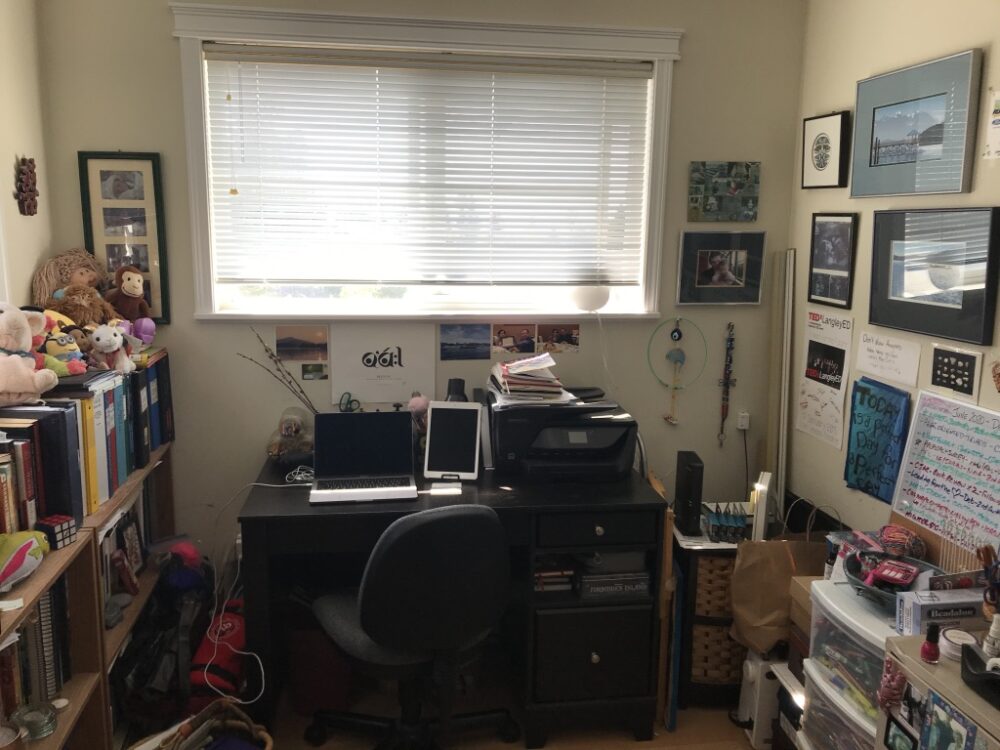 Week 25 – September 7, 2020 – Classic Chris, Need to Organize
I've got a lot of stuff and it's not quite the time to sort through everything and consider purging all of my knick-knacks quite yet. Classic Chris to start organizing and cleaning right before a big event or paper… or something like that.
Tomorrow is the start of "orientation week" where September 8/9 is B.Ed. Orientation for Teacher Candidates… hosted online… and September 11/12 is the introduction of the Interwoven Courses of EDUC 405 and EDUC 446 of the Renewed B.Ed. Program. It's going to be a labour intensive week such that I've spent most of my time trying to organize, prepare, and plan for these 4-days. Of course, there are amazing faculty, staff, and community members who are helping me out to facilitate a workshop or two.
Now it's September 8th. Time will get you that way. Just completed the first day of four of B.Ed. Orientation. The first 2 days are for all Teacher Candidates from 6 cohorts and 3 campuses. The following 2 days are for 2 cohorts in the Renewed B.Ed. Program. The time has arrived and what I've been planning for in the last month or so is coming to fruition. I think Day 1 went OK. A few hiccups but nothing that we could not recover from. I am super proud of my team.
This gets to my original point of my blog. I am always thinking of the now. The URGENCY OF THE NOW seems to capture my attention, so I am only focussed on what needs to get done in the short term. COVID-19 in particular put me into this mindset. There is such a high level of uncertainty that everything that I am doing is TEMPORARY thinking that this too will soon pass. The pandemic will over time be a moment of the past, but in the meantime it's here and possibly for awhile.
I've been living out of my suitcase in Sechelt since Mother's Day (May 10th). That's 4-months. From mid-March to mid-May, I was living in complete isolation physically distancing myself from everyone in my apartment in Prince George. It's fall and school has started online at the university.
What I need to be doing in the new normal is to create a new normal that's sustainable. When I was in Prince George after the global pandemic was announced, I stayed up until 4am and went to sleep until noon. I was getting my 8-hours of sleep but I was also watching the news at every waking moment and taught my courses asynchronously.
Returning back to the Sunshine Coast, my sleep habits are better… maybe from midnight to 8am but I'm working at every moment everyday (or at least it feels that way). I need to create some reasonable boundaries as I work from home. On the one hand, I am so happy to be at home with my kid who is going into Grade 12. On the other hand, working from home creates blurred lines between work, life, and play.
To be sustainable I need to have time for each aspect of my life. I have made a decision to stay for one more month in Sechelt but I'm waiting to hear more about practicum and the winter semester. Snow oddly is another factor for me to consider. In the end, I need to be acting and behaving for the long haul. The vaccine is not coming any time soon and the number of COVID-19 cases in BC are only going up. This pandemic is not ending soon and I need to find the joy in all that I am doing and kid burnout.
I am definitely taking weekends. Work until Friday at 6pm and not start work again until Sunday at 6pm. I got that idea from my critical friend. So grateful. I was kind of doing that already but out of exhaustion, not fir intentional rest time to fill my cup. I am also recommitting to my #daily5kchallenge. I can do that while I'm in the Coast. And, I'm taking lunch time off to eat (tech free) and go for a walk with my friend. A 9am to 5pm day seems reasonable but sometimes life or work interrupts that rhythm. I'll leave that for now and see how things go.
#pandemicreflection #mentalhealth #sustainability