Two Weeks In Isolation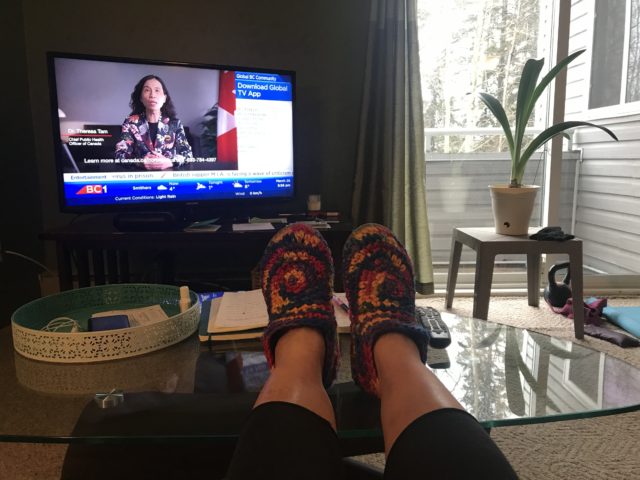 It's March 29th and it's officially 2-weeks since I have self-isolated myself from THE WORLD. Seems dramatic and it is. I was spooked 2-weeks ago and it's so weird to think about the last time I was "at work." It was Friday the 13th, had a meeting, met up with friends, food shopped, and that's it. Things started to escalate then… I can't even mention how things have changed since. I am totally convinced by #socialdistancing, #physicaldistancing, and #stayathome. Got it. We need to #flattenthecurve and protect ourselves and others. Here we are in a state of global crisis and all I can feel is gratitude. Even typing that out seemed kind of dark, but what I can say is, I recognize my privilege.
My conferences are cancelled, I'm spending my time trying to get refunds, and I have reports to write (that I am heavily procrastinating). Soon, I will have papers to mark and marks to submit. Am I complaining? No way. I have a warm place to stay, I am in social isolation, and I am safe. Thank goodness for electricity and technology, otherwise I think this pandemic experience would have been dramatically different. Of course, I would love to be with my daughter and be with friends, but the most important thing right now is being safe from the virus and move forward with life, but in a different way. I am also grateful to have a job, food to eat, and some financial security. Right now, things are going well. Moreover, friends and family check in with me to see how I am doing.
One of my struggles so far has been trying to stick to a routine. You hear it on the news. It's good for you and your mental health. Ack. I could not do it. I think if I was living with my daughter or a roommate, maybe I would have routines and self-imposed expectations to get up, make breakfast, and "go to work" in my dining room/office. Living alone gives me full freedom. I had no routine to stick to, just deadlines and meeting times. That's it. I tried for 2-weeks to get up at 8am and go to bed at 11pm. I had troubles going to bed and troubles getting up. Surprise… like most people during a pandemic. The news was heavy and we are embarking on a "new lifestyle" and way of being. My moment of celebration was getting a couple of things done last night, going to bed when I was tired, and waking up when I was ready. I feel great. I've decided to not judge my actions against a clock. I work way better in afternoon, evenings, and late at night (like this).
What I've learned is, be kind to others and be kind to yourself. We are heading into a few more weeks of isolation, if not longer. I'm a little too spooked to travel to see my kid, but we are connected online and I see her everyday. I am getting work done, but as per usual, I can always be a bit more productive. I do need to wean myself from the news and just listen to it at the start and end of my day. I am an extrovert learning how to lead a life of being alone (writing my dissertation helped). I think that's why the TV is always on. I like a little company. But, I am connected online, I have work to do, and I am learning how to live in isolation. This is my small contribution to #flatteningthecurve.
#physicalisolation #stayhome #flattenthecurve