Exceeding Expectations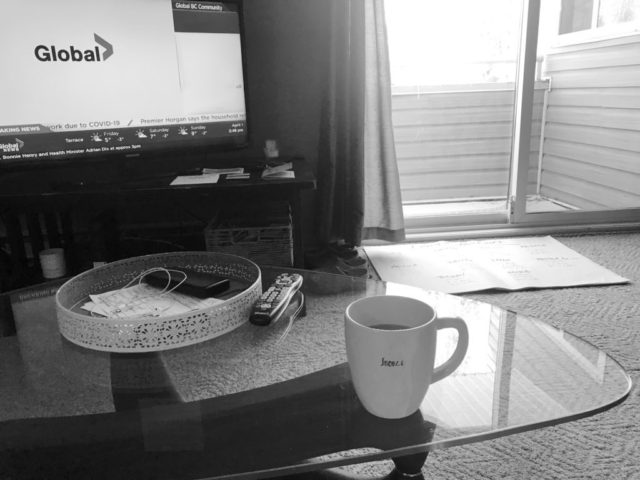 STAYING AT HOME AND SOCIAL ISOLATION
It's the end of Week 3 and I'm happily engaged in staying at home social isolation. From what I understand, I'll be here for a few more months. Well, as mentioned in previous blog entries, I'm still working, teaching online, and getting the work done to get this term done remotely. Although I am incredibly surprised how fast things are moving in terms of everything that we need to do to flatten the curve, I am slowly but surely adapting to this life within my apartment in Prince George (away from my kid and my super cute dog). So, it's been an interesting journey so far living alone and being isolated from others for the past 3-weeks but I am never alone. I get check ins from friends and family every day. My daily connections are never the same. I am also connected on social media. I do see many tweets and posts about being kind to the extroverts that you know. I really think that my 8-year dissertation journey also taught me to appreciate introverted qualities. You have to be. I think I may have overcompensated with social media to stay connected, but how I am feeling now and for the last few weeks, it seems very familiar. I can do this.
CREATING DAILY AND WEEKLY ROUTINES
I've decided to return back to my weekly blog. I tried the "daily blog" approach like my friend Ian Landy (@technolandy), who was inspired by George Couros (@gcouros). I could not do it. What I realized is, I need time to reflect and think about what's important and why. I would only blog when I was inspired. I liked that idea, but blogging was intermittent and I needed good habits to write. Writing is a COMMITMENT. I need to do that. I was a bit overwhelmed with practicum and observing students. It consumed my time, energy, and emotional creativity. No blogging happened for many weeks during practicum and I intended to work on my e-Portfolio too. Again, contributing to my e-Portfolio, blogging, and reflection takes time, practice, and routines. What a better time (during a global pandemic) to make daily and weekly routines. Along with showering and brushing my teeth daily, I am returning back to a weekly blog. This is a good time to make this commitment along with my writing, in general, to make a commitment to what's important to me and develop my skills. Some of my blogs I will post. Some I won't. Doesn't matter. I will also commit to writing my book about my mom, my life-long inquiry about math education and "math stories," and academic pieces I've been putting on hold.
FORMAL TRIAD MEETINGS AND CLOSURE
On Monday, Tuesday, and Wednesday this week, I had my formal triad meetings with my Teacher Candidates and their Coaching Teachers to conclude EDUC 491 practicum. We have 45 Teacher Candidates in our program in Year 2 of our 2-year program. I am responsible for 10 of them as a Faculty/Practicum Mentor, where two are secondary candidates and eight are elementary candidates. I've learned a lot about being a Practicum Mentor and I learned a lot from my Teacher Candidates about teaching and learning. I was so proud of them wanting to extend themselves to teach and be observed in lessons that "step out of the box" and I was impressed with their openness to formative feedback. We planned to have these meetings well before spring break. My intention for these meetings was to connect face-to-face, discuss how the practicum went for the Teacher Candidate and Coaching Teacher, and sign forms. With the pandemic, the face-to-face meeting was impossible, but we collectively forged forward to meeting VIRTUALLY on BlueJeans to discuss practicum and figure out a way to digitally sign forms and reports. The meetings went without a hitch (except for a few office procedures). Now you can see in the photo above, beyond my coffee cup, a poster full of Teacher Candidate names and forms I need to collect back from them via email to conclude EDUC 491 practicum. I feel incredibly fortunate to have been their Practicum Mentor. Truly honoured to be a part of your teaching and learning journey. You've been a huge part of mine.