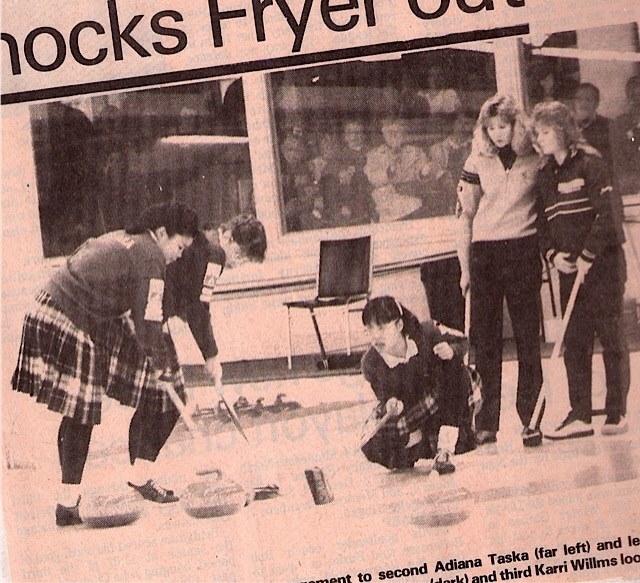 End of Week 21 and 22 – August 15, 2020
Wow. You know when you are in the "new normal" when time is just flying by. I cannot believe that I missed my weekly blog entry last week and I cannot believe that it's mid-August. Here is a photo from the archives. Seriously. This snapshot was taken from when I played competitive curling in high school. The title reads "Knocks Fryer Out." Brilliant. I skipped this high school team from Prince Rupert and we won this provincial playdown and came runner up in another tournament. It was a great season to end my high school experience, but what I did not realize was how much I would learn from this sport that would extend beyond the sport itself.
"Learning takes patience and time."
I love this First Peoples Principles of Learning, "Learning takes patience and time." You are always learning and you don't know when you are going to use that information and why. My attention in recent weeks brought me back to what I know and understand from curling. I need to imagine that I am skipping a team in a bonspiel with huge hopes of winning. I am reminded of the big idea of "Don't look at the prize table." What am I focused on? " I'm led back to Alasdair McIntyre's "goods internal to the practice" and Carol Dweck's "growth mindset." We can do this and I need to stay focused on the game. Shake off the missed shots. Utilize people's strengths.
Don't focus too much on the prize. That is the goods external. It's a balance between the details and the big picture. Ultimately, we want to place well, learn from our mistakes, and work together as a team. We each have a role and we each have strengths to bring to the table. In this case, I have to take the lead even though I do not have a formal leadership role. This is my strength: leading. There are some pretty incredible projects we are working on and my team is making it happen. When I can look at my work like a curling game, I have faith that we will be at the prize table.
#pandemicreflection #leadership #teamwork