Second Chance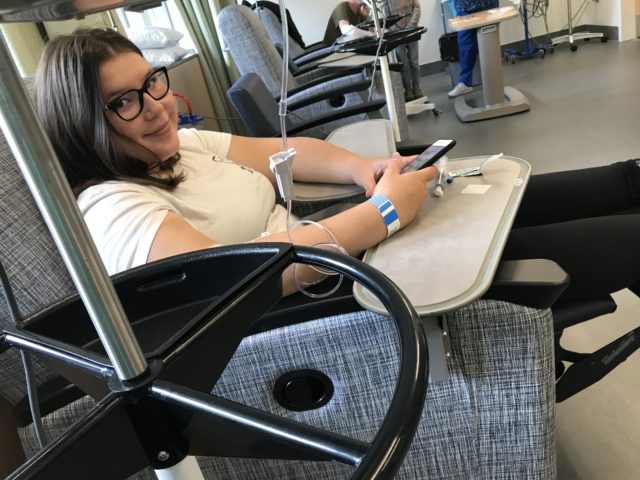 Week 33 (of 38) – May 6 to 10, 2019
I am a week late in writing my weekly blog of learning… and truth, it was not because I was "too busy." I am busy but I have not been doing much. I am in a state of SADNESS and I am unable to shake it. I feel very lucky to be a part of the CAfLN conference and reuniting with some of my colleagues at NOIIE2019. I had to leave the the NOIIE2019 early to rush home to bring my daughter to the hospital. She's been sick  since she's come home from Florida. We went to the doctor when she first returned a couple of weeks ago and treated her with some penicillin with hopes of the inflamed area would cease after a one week of treatment. She got better, briefly… but she remained sick and missed a few days of school. I left for my second conference thinking that all would be well… but she persisted to tell me that it was getting worse. As much as my professional learning experience was lifting my spirit, I had to leave the conference early to help her.
As soon as I arrived at home from Richmond to the Sunshine Coast, I dropped off my bags and got back into my car to take my daughter to emergency. She was not looking good and had troubles talking. We walked into emergency and well… we walked right in. Got immediate service and before I knew it, she was attached to an IV, her vitals were taken along with a blood sample, and was immediately signed up for a CT scan. OK. This is bad. In fact, I've seen this before (with my mom). My job was to keep my kid company. She's old enough not to have me there… but I look young enough that they thought I was her friend (and not her mom). My kid soon corrected that idea… reiterating the fact that I'M OLD. Looking back, my kid did a great job describing her condition (even though I think she down plays it a bit). We soon learn after the CT scan that she had a tonsil abscess. If we had waited any longer, her airway would have been completely blocked.
We were then armed with more antibiotics, steroids, and pain killers. We also went to Lions Gate Hospital the next morning to get her abscess drained by the Ear-Nose-Mouth doctor. The draining procedure was somewhat successful (and my kid would also say painful). We were then sent back to Sechelt Hospital for more antibiotics and steroids to be taken by intravenously for the next few days. In the meantime, I missed another conference I was presenting at, stepped down from one committee, and missed a meeting (I stepped down from that committee as well). My friend called it "decluttering"… I called it necessary. With my full attention on my daughter, nothing else mattered.
In my last blog entry, I claimed that was not given many (if any) second chances. I stand corrected. I was given a second chance with my kid and her wellbeing. I was given a second chance with my work. In fact, I am given many second chances, but it was my decision and responsibility for me to recognize the opportunity and to seize it. Sometimes I took the opportunity. Sometimes I didn't . I am so grateful that my daughter is on the mend and her (almost sixteen year old) sassy self is alive and well. Dr. Helen Timperley from NOIIE2019 pre-conference (and I'm sure on Day 2 of the conference) talked about ADAPTIVE EXPERTISE and asked each of us WHAT ARE YOUR BELIEFS? What do I believe in? What do I value? She asked us to look inwards to self-assess what our beliefs are to understand ourselves and how we would behave in our practice. What do I value?
What I believe in and value is MY KID. That sounds completely crazy… but it's true. I would drop anything to help her or be with her (even though she wants to be independent and autonomous). She has a high level of efficacy (more than me, for sure) and she has a better sense of herself (way more than me). I love her to bits. Looking back on my last 16 years with her… my BIG LIFE decisions had much to do with her (and she would hate that). My career is definitely second. This is part of my struggle. My kid aside, what I value the most and believe in wholeheartedly are MY STUDENTS. It didn't matter if they were my high school math students or students in teacher education or graduate studies, their learning and learning experiences are my primary concern.
I have some core beliefs about student learning. I want them to be the agents of their learning. I want to use ongoing formative assessment strategies to support their learning. And, I want them to feel efficacious with what they are learning. In doing so, I am learning. If I am learning, I am vulnerable. When I am in a state of vulnerability and learning while I am doing, sometimes things don't work out as planned. This is EXPERIENTIAL LEARNING. I am driven to challenge the status quo. Unfortunately, when it doesn't work out and you are taking students on the ride with you on this pedagogical journey… it may not be received by those who are experiencing it. Negative feedback… it can be relentless and I am unforgiving (to myself). We are back to Dr. Brene Brown's work with vulnerability and shame. I deeply internalize my mistakes such that it takes a lot time to get back up, to forgive myself, and to try again. I feel shame. It will be a long road. Brene calls this the VULNERABILITY HANGOVER. I hope to get over it soon.