One Year in the Pandemic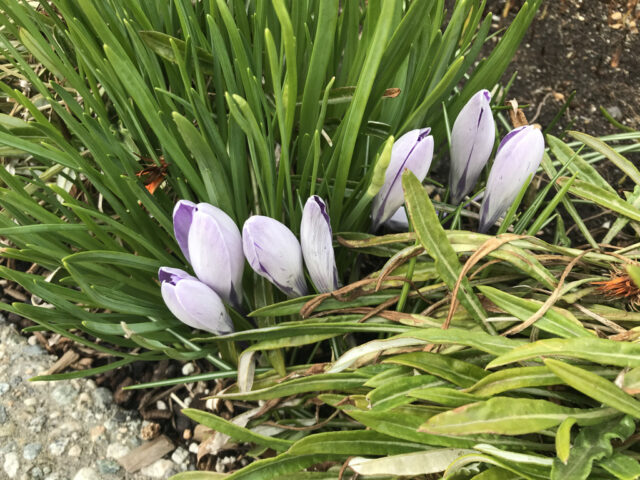 Week 52 – March 13, 2021 – No more hiding
Holy moly. It's been one year and the global pandemic persists. I remember the day when one of my students in January brought to my Numeracy Across the Curriculum class two possibilities to do her lesson plan on: (1) electromagnetic energy; or (2) the virus spreading in China. She chose option (1). It was only a couple of months later we found ourselves completing the course online asynchronously and using data from the media regarding the number of cases as inspiration to design learning around a current event that is related to their subject specialty and numeracy principles.
I also remember the day we were told that we were going to remote learning. It was Friday, March 13th. I was food shopping and bumped into one of my colleagues. We chatted briefly and joked about what if. We hugged and giggled. Little that I knew, it became official and no one was returning back to campus. Toilet paper was scarce and practicum ended abruptly before spring break. We scrambled to ensure that the Year 2 Teacher Candidates had enough evidence to pass practicum and graduate. For my numeracy course with my Year 1 Teacher Candidates, we went asynchronous online. I needed the time to cope with this new phenomena of isolation and social distancing. My students needed the time to complete the course at their own rate.
Both cohorts endured a strike and COVID-19. Their resiliency was tested and they exceed my expectations. While I was self-isolating from the world and watching the news 24/7, my colleague was compelled to call me everyday to see if I was OK. She met with the teacher candidates regularly on Zoom and I facilitated learning from a distance. That said, we did collaborate with some of the Year 2 teacher candidates to create a 2020 Legacy Project. And more recently, these teacher candidates (now teachers) contributed to the department website with a student testimonial. As much as it has been a difficult year, working with the 2020 and 2021 cohorts was just amazing. I am so grateful to work with them this year. A phenomenal crew.
I can't believe it's been a year. I left Prince George and headed back to the Sunshine Coast on Mother's Day (May 8th) as a gift to myself. As disrupted 2020 was for the teacher candidates, it was a massive disruption for me in seeing my kid on a regular basis. I was losing touch. I did not expect to say longer than the summer. I packed a suitcase, a backpack with my laptop, and my plants and headed back to my second home. I did return once to Prince George to pick up my desktop, drop off a few things, and watch graduation online. Otherwise, I've been on the coast ever since. I wanted to get rid of my apartment to save a few dollars, but the pandemic worsened and market values went way up. It just made more sense to hold onto my place.
The last 12-months was a year of uncertainty. I have never worked so hard from my living room floor. What's expected of me is massive and I don't seem to have the time to get everything done in a timely manner and get some of my work done. In fact, I never get there. It's been a year of reflection and constant pivoting. I am learning that you can't please everyone and I have to make myself a priority. That's not easy. Due to the uncertainty, it was difficult to make decisions. Furthermore, my life is also in a holding pattern and what I need to do is make the best of the opportunities that come my way. Student learning and advocacy continue to be a priority for me as well as supporting my colleagues and contributing to the university where I can.
I take a deep breath. I have been challenged many times this year and almost gave up. I am learning to be more vulnerable and to BE SEEN. That's not easy for me. It's been 12-months of reflection and it is becoming very clear to me what my next steps will be. It's not about being selfish, it's about doing things for you because you deserve it and you're good enough. No pretending. No hiding. Just learning and doing what I love that stokes my fire. I need to do this for myself, but also model for my daughter that you can do anything regardless of obstacles. Do not be distracted by perceived expectations. Focus on what matters to you and get there on your terms. Keep persisting and re-navigating. You will succeed. In the meantime, I will continue to hibernate at home, teach online asynchronously, and go to meetings via Zoom. I hope to be vaccinated by the summer and ready for the fall. It's time to bloom.