My (Revised) Location Statement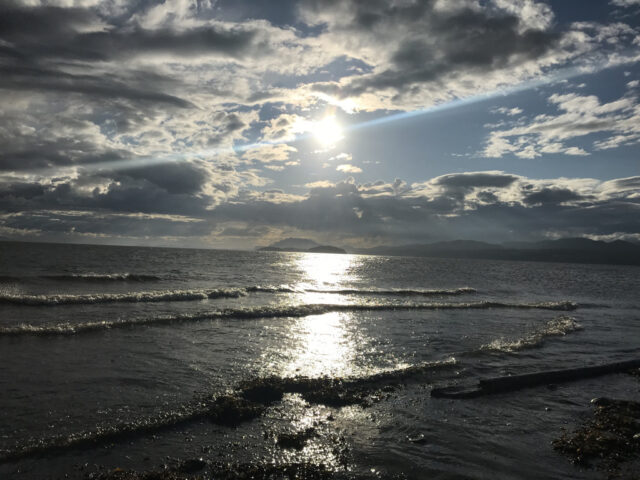 Week 80 – September 22, 2021 – Rewriting what's important
I suspect that I will return to this again. I was so inspired to get back to this writing and so I did. Now I feel like I'm ahead on my weekly blog posts by posting ones back to back. Seems fitting. Returning back to my Location Statement, it was clear to me that I have shifted since my first iteration. Lots of the details don't mean that much to me anymore. For example, I did not mention the lingering effects of the Pulling Together Journey or what it mean to live away from the ocean. It turns out that I am more defined by how I look as a "person of colour" and who my parents were. I am a product of colonization and Canadian policy. I believe my biggest learning so far is understanding my value and acting in ways that are aligned to my values.
---
My Location Statement:
Alice Christine Ho Younghusband, B.Sc., B.Ed., M.Ed., Ed.D.
My name is Alice Christine Ho Younghusband. My mom is Vivien Ho (her Canadian name given to herself after the British actress Vivien Leigh) and Douglas Ho (but had also named himself Cyril because it sounded more like his Chinese name). They were both born and raised in Hong Kong and both immigrated to Canada with my older sister, Allison. My twin brother and I were both born and raised in Prince Rupert, BC, a place where my parents settled. 
I am a non-Indigenous settler and second generation Chinese Canadian woman. I am the youngest of three children and could never compete with the first child and first boy of the family. I self-identify as "Number 3" in my family, but always strived for "being equal" to my siblings. I am a math educator, teacher educator, and wannabe researcher. I am a mother, daughter, sister, aunty, niece, cousin, colleague, and friend. Although I have led a life of privilege and am currently an Assistant Professor at the University of Northern British Columbia, I was also marginalized and subject to racism, sexism, and more recently lateral violence. 
Although I may appear Chinese based on my genetics and how I look (and some have presumed that I am Indigenous based on my appearance or married name), I am Canadian, assimilated by my parents to "fit" or belong to the Canadian Culture. I don't speak or understand Cantonese and I have no sense of Chinese culture, except for food. I just blended into this multicultural community thinking that we are all the same: Canadian. My parents were a part of the Chinese Community in Prince Rupert and they worked very hard to give us a better life in Canada. 
My dad came to Canada trained and educated as a gas engineer, but worked at the pulp mill as a technician; remembering when he had to serve coffee to his boss and never having to make coffee before, nevertheless making it for anyone. He was underemployed and could not get past being the second in command. My mom worked at the cannery and pulp mill cafeteria, with shifts back to back. She never cooked when she was in Hong Kong and had to learn how. Later, she became a coffee shop owner, caterer, and worker at the delicatessen. My mom saved every dime and never asked for help. She was a strong and proud woman. 
Gawd. I remember food shopping with my mom as a child and she used to buy "X bread" (aka. day old bread) from a specific basket in the store to stretch the dollar. I never understood as a child why my mom insisted on X bread. Now I do. Even though my parents bought the house we grew up in with no mortgage, and had never carried a mortgage into their next house or for the condominium they bought for retirement, I hated buying X bread and was determined not do it. 
I graduated from Prince Rupert Senior Secondary, then went to the University of British Columbia and completed a Bachelor in Science degree majoring in Chemistry and Bachelor of Education degree specializing in secondary science, chemistry, and math. I would consider myself to be an average student. I got my first teaching job on the Sunshine Coast, where I taught for 16-years. In that time, I got married, had one kid, and completed my Master Degree in Curriculum and Instruction from Simon Fraser University. I never thought I would be a secondary math teacher, but what I have learned from teaching (and playing competitive curling as an adolescent), has guided and informed my next steps.
When I left teaching in K-12 public schools, I felt misaligned and disillusioned. I lost faith in the system and purpose in the profession. I was enrolled in an educational leadership doctoral program and wanted to create change. A year after leaving the practice, I became a school trustee while completing my dissertation. It is from this experience, I was able to write for the BC Ministry of Education, First Nations Education Steering Committee, and BC Open Schools. I also had the opportunity to understand the system from a different perspective which then helped me to complete my dissertation over 2-terms of trusteeship. 
The Sunshine Coast was my home for more than 25-years. Much like leaving the profession, I felt misaligned. I tried to maintain two homes, two lives, in two places while teaching and learning in Prince George. It was not meant to be. My marriage ended, I said goodbye to my home, and my kid graduated high school. She now lives with me in Northern BC in my one bedroom apartment. I sleep in the dining room (aka. A bedroom with no door or closet). I have never been happier. It's like returning home. Although I am not near the ocean, I am in community and learning once again my identity and sense of place on this land. 
I am in a state of transformation as a person, educator, and academic. I enjoy my work, I love who I am meeting, and I am grateful to be with my kid and be her mom. I am committed to learning more about Indigenous Peoples in Canada, make space for voice and change, and walk beside Indigenous Peoples in Truth and Reconciliation to decolonize and indigenize my pedagogy and practice. I am learning what I am passionate about while supporting others to do the same in teacher education, leadership, and research. I feel lucky and I am grateful and humbled to live, learn, and teach on the ancestral territory of the Lheidli T'enneh. Mussi Cho.