Food and Culture – Ode to My Mom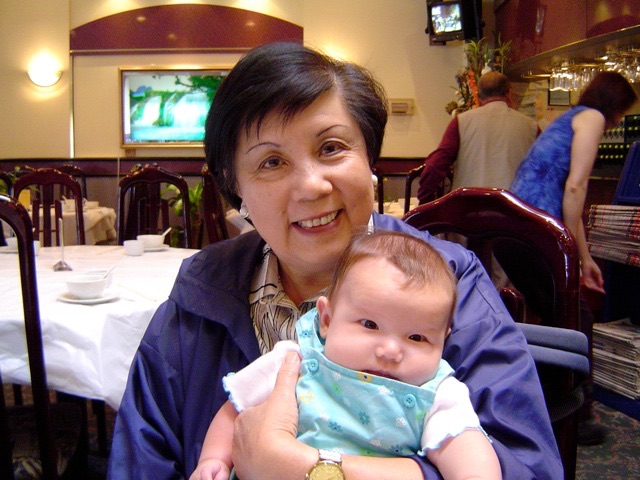 Have you ever had spaghetti made with ketchup? This was my mom's interpretation of spaghetti when I was a kid. A "Canadian meal" meant ham, mashed potatoes, and peas. Most times we had stir fry and rice. My mom stretched every dollar. She bought X-bread (aka. day old bread) so that my dad could have toast and tea in the morning and chicken legs (i.e., the cheapest cut of meat) to make "vi-guy" (Vi = the first two letters of the name she gave herself when she came to Canada, after Vivien Leigh; and Guy = my lame language lacking ears and tongue saying "chicken" in Chinese). It was my favourite meal. She hated turkey. It was one of the first meals that she made when she came to Canada. My mom did what others were doing during Thanksgiving. She made turkey, but she hated how it tasted, it was dry, and there was so much of it. Yet, turkey dinner is one of my favourites.
My parents immigrated to Canada in the late 60's and moved to Prince Rupert, BC where I was born and raised. My mom had no idea what it meant to be Canadian, but did the best she could to raise my twin brother and I as "good Canadians" as well as my older sister. She was born in Hong Kong. My dad was an engineer, but was underemployed at the pulp mill as a technician. Every year my parents were worried that the mill would shut down and my dad would get laid off. Money was tight and my mom worked two jobs to make ends meet. She worked in the cannery during the day and the pulp mill cafeteria at night. We pretty much raised ourselves as my parents worked to keep a roof over our head and food on the table.
I'm guessing that being Canadian was a big deal for my parents. Although there was a local Chinese Association and community in Prince Rupert, I am a product of Canadian policy. I have no idea how to speak Cantonese and I don't know anything about my heritage or Chinese culture. I spent much of my life "blending in." I never perceived myself as Chinese. I just thought I was Canadian. I never recognized that I was Chinese until I went to university in the Lower Mainland and I was surrounded by many Asian people. I felt uncomfortable by so many Asian people in my classes and their desire to sit near or around me. I didn't get it.
After I finished university, my parents moved to the Lower Mainland. For them, living in a condominium felt more like home to them. It reminded them of Hong Kong and they had access to authentic Chinese food and restaurants. My mom did not have to make it anymore. I loved meeting up with my parents to go out for dim sum or "double duck dinner," that is two Peking ducks and many other yummy dishes. I always relied on my mom to make the order. I never questioned. She was so excited to look at the menu and negotiate with the server or restaurant manager to get the best dishes on the table. I had no idea what she was saying, but appreciated the food on the table. She managed to get everyone's favourite dish on the lazy Susan. Food brought us together. I wished I knew what and how she ordered.
My mom passed away a few years ago in my 40's. Damn. She was a strong woman. She was dying of cancer in the liver and lived with the pain for many years before being diagnosed at emergency. My mom opted for MAID (Medical Assistance in Dying) over palliative care. It was an easy decision for her, but a tough one for the rest of us. Since entering the hospital, she lived for 20-days. I had the pleasure and joy of taking care of her. My brother and sister had to work, and my dad was preoccupied with the condo-strata and getting the elevator fixed. My mom was rooting for my dad and wanted the elevator fixed too. She laid in bed at the hospital for days, blind, and begging to go home. When she decided to move forward with MAID, she found solace. She was at peace and we were managing her pain. And to her delight, she wanted to host one more Chinese dinner to say goodbye.
Double ducks, of course, and all of her favourite food. She made the order on the phone from the hospital bed. My dad, sister, brother and I listened to her as we gathered around her bed. She was so excited. She knew every dish she ordered from her favourite restaurant without looking at the menu. We had dinner at the condominium with family and friends. That is one of my favourite memories of my mom. She laughed and giggled. It was joyful.
Since my mom's passing, I moved north to Prince George to be a professor at the university. She would have been proud of me. I spent most of my life trying to "fit in" and being a "good Canadian." I never thought I was Chinese. I hated how I look and I got frustrated by racist remarks. You don't know who I am. You are judging me based on how I look. After 18-months of the pandemic, my daughter moved in with me into my one-bedroom apartment. I sleep in the dining room, now my bedroom. I'm starting a new life. There was some permanence to this final move and all of a sudden I wanted Chinese food. I could not find anything authentic. Thank goodness for Google and Facebook. I found one place that sells "ethnic food" and a few items at the Superstore. I never thought it mattered, to feel connected to my Chinese heritage or cultural identity, until I did not have it anymore.
I miss my mom.