Moments of Gratitude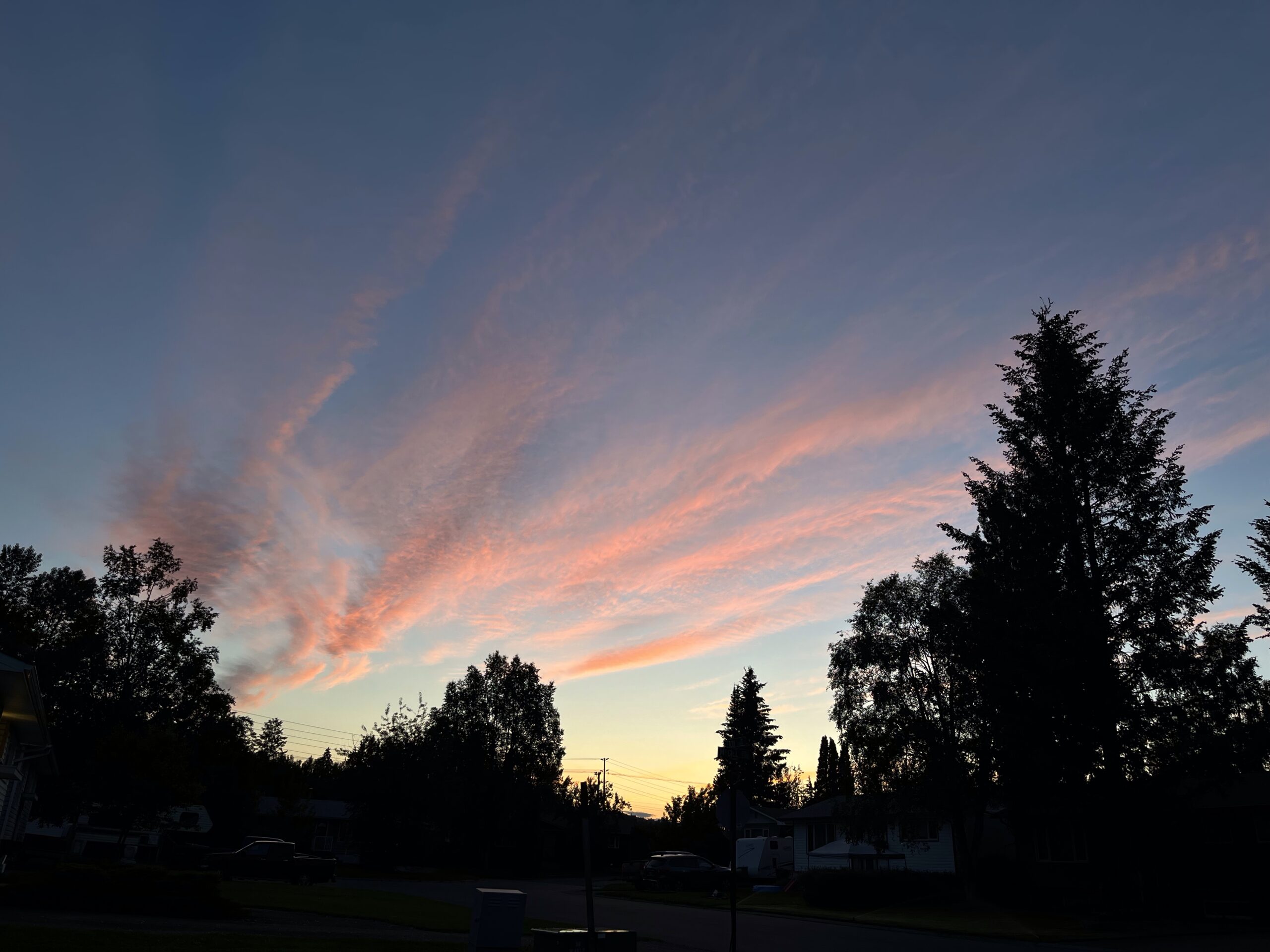 Week 119 – June 26, 2022 – Transformation is bumpy
What a beautiful night. Can you believe that I took this photo at 10pm at night? This is one of the things that I have noticed about living in the Central Interior of BC versus the Lower Mainland. The days are much longer and late night walks are viable. The evening remains relatively light outside and late night walks are back on my things to do. I loved walking along the waterfront when I lived on the Sunshine Coast. Now, it's walking around my neighbourhood and taking the time to appreciate my location.
Today makes the first hot day of the summer in BC. It's not the heat dome like it was last year, thank goodness, but it's a couple of days of hot weather. I would say this is the first day of summer, IMHO. Just last month it was hailing and snowing in Prince George, so this hot weather is a nice change of pace. Thank goodness my apartment faces north, so it has been quite pleasant inside for most of the day. That said, I took out two fans from storage, one for the living room and the other for my bedroom.
As I watch the news and listen to the weather warnings, I am reminded that we have to be prepared for change. I was listening to a podcast the other day stating that one cannot control outcomes, but can control the process. Meaning, I can only control myself. That's it. I can certainly take advice from others, but I cannot make something happen when the decision is not mine to make. I can only control what I can control and part of that is trusting myself, not betraying myself, and being true to myself.
It has taken me a lifetime to get here. I spent most of my life trying to please others, meet other people's expectations, and striving to be someone else. This is not to say that I was not myself at times, but I often found myself trying to belong to others when the real lesson was to belong to myself. What I am saying here is very Brene Brown and it is very difficult to say that I been motivated by what I perceived what others thought of me and pretended to be someone who I am not (many times).
I was so grateful to go to Vancouver last week to take time for me (and work, of course) but also meet up with friends and family. Feeling connected and being in community are very important to me. Of course it is, as mentioned above, but I am learning what it means to do what's important to me and feel good about it. I am developing a new habit and finding that I get caught in the old paradigm. But at least I am noticing and findings ways to remedy my feelings of regret and betrayal.
After a meeting last week, my colleagues/friends went out for dinner and afterwards shared with me the idea of "the path less travelled" and recited Robert Frost's poem of "The Road Not Taken." I appreciated their encouragement and insight. I've been pondering about it and wrestle with the idea that I am not going to take a direction that is true to my values and will not compromise my integrity. I need to consider myself in my next steps and what brings me joy. It's my pedagogical journey to take.
Although it has taken me sometime to get to this place of being and understanding, I am thankful to have a series of events happen to me the way it did. I am not perfect. What I do know is, I am free. I can do what I want and now I know the rules so that I can play the game the way I want to. Again, I have control and agency of the process. I trust that in the end the product will be the same. From now on, I am going to listen to my instincts, feelings, and intuition. There is more than one way to get to my why.