In Constant Motion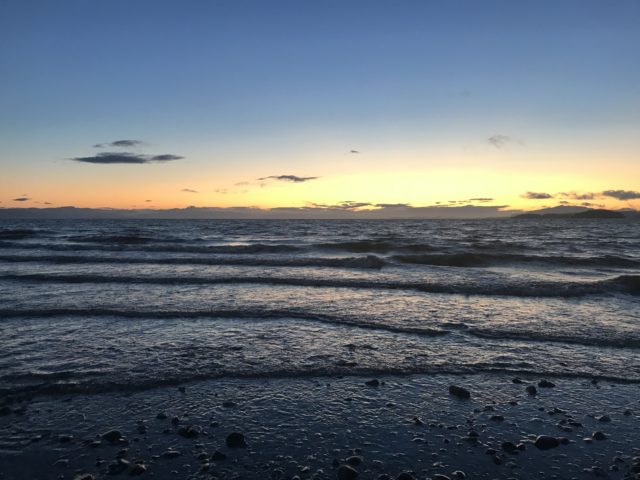 Here is a photo of me being in one of my most favourite places to be. I love how you can stand so close to the water to listen to the waves and take a moment to wonder… to think… and to reflect. I am reminded of one of the First Peoples Principles of Learning (FPPL), "learning requires exploration of one's identity." It's something that we teach at the School of Education… "you teach who you are" (Palmer, 1989). So understanding who you are as a person will shed some light on who you will be as a teacher. What are your values? What are your strengths? What is your teaching philosophy? I asked some of my students to reflect on this FPPL. I loved what they had to say. It's in constant motion. It depends on who is in your life and where you are. It's something that is difficult to define. I would totally agree. Even when you think you know who you are, it changes. That change creates a disruption with self and it takes time to re-establish a new equilibrium.
Every opportunity is a learning opportunity. We have to seize those opportunities as gifts. We can grow, be stronger, and take a different direction. Strangely, I think we are guided in many ways whether if we know it or not. Sometimes we make "mistakes" but I am a strong believer that we don't make mistakes but we are meant to try again or realize that this isn't the right path so try something else. I've always wondered about some of the career moves I have made in education and wondered many times what it would be like if I just stayed the course. I also think about why I was compelled to take a different path and I think about how much I have learned on my pedagogical journey and all of the wonderful people I've met. I've often imagined life had I took the pension route and continued teaching mathematics. I've also imagined what it would be like in different positions and in different places. Truth… I have no regrets. I am meant to be where I am but also learn what I am suppose to learn. I am confident if I did not get it the first time, the lesson will come my way again. This is the fun part about learning. It's iterative.
I am grateful for my kid, my family, my friends, my colleagues, and my students. It's the people around me that make my pedagogical journey rewarding, challenging, and somewhat adventurous. The journey is not easy at times. It's in constant motion and I'm ok with that. I am curious where the tide will take me next. Learning is about keeping the mind open, being vulnerable to new information, and taking risks with hopes of being on the right path. Be kind to yourself. Find your people. Keep learning. And, have fun!