Creativity is Messy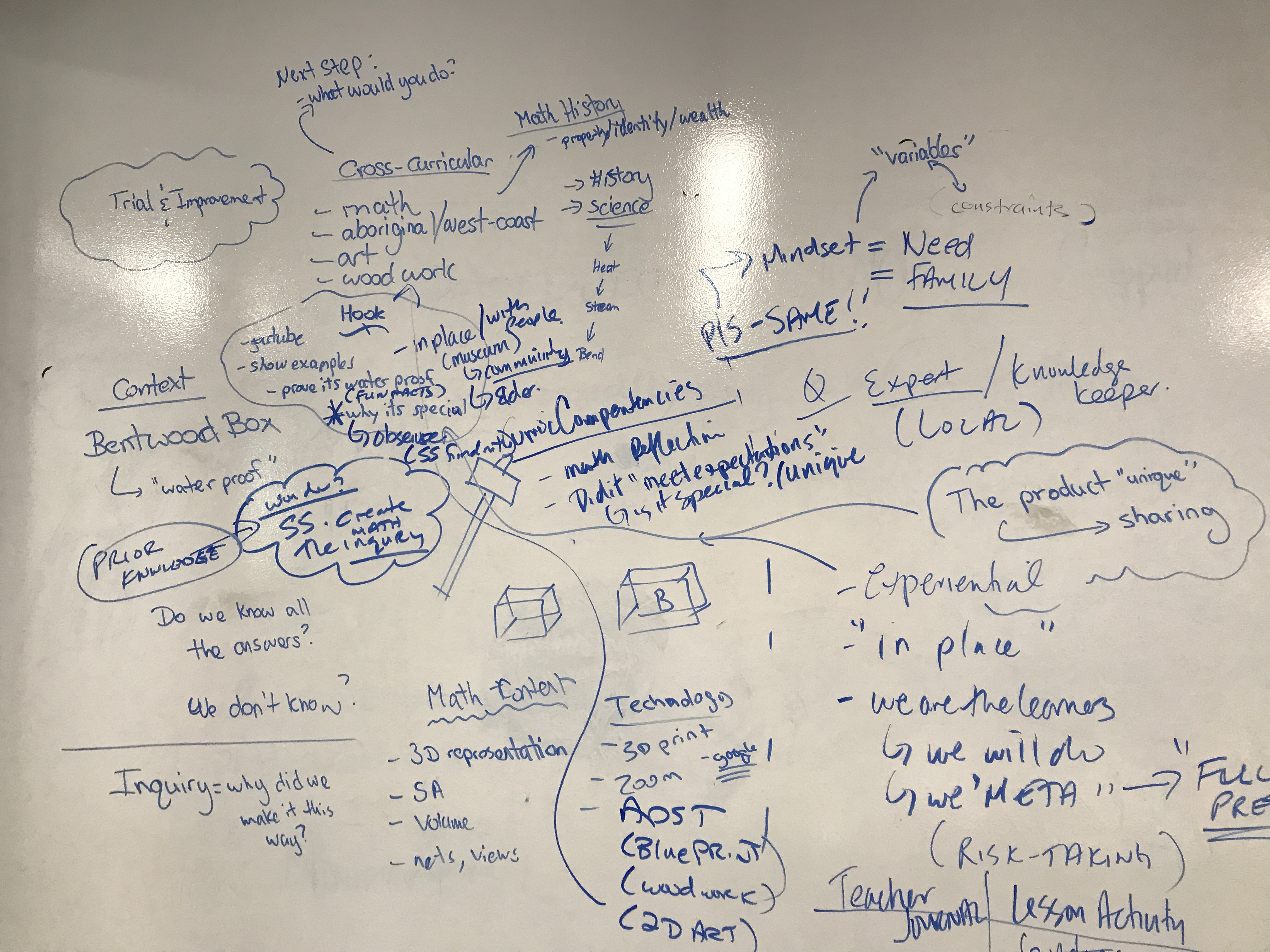 Week 24 (of 38) – March 4 to 8, 2019
This week begins and ends off campus. I started the week in Vancouver… I went back home to Sechelt for a day… flew to Victoria… then back to Vancouver… meeting in Richmond… and back home to Sechelt for a few days. Hmm… I guess I travel a bit. Teacher candidates are on practicum, thus classes are not in session. This was an excellent time for me to explore and pursue some of my professional learning and contribution. I started and ended the week working with FNESC (First Nations Education Steering Committee) and midweek at the BC Ministry of Education Open Schools (OSBC). In both opportunities, I am working on creating math resources for teachers: revising the Math Teacher Resource Guide (TRG) with FNESC and creating math videos for OSBC.
The first meeting with FNESC was working with a focus group who provided feedback on the initial draft of revisions of the TRG and the second meeting was reconnecting with the writing team to review this feedback. That was a learning experience. First, I love our writing team and the people I work with. The work is challenging and I am learning so much. Listening to the focus group was challenging at times because they are critiquing your work. The brighter side is, I learned that the field is ready for more authentic Indigenous Education in mathematics. I loved that. A great take-away which lent itself to my other work at OSBC. With much discussion with math educators from around the province, we decided to produce 5 videos: four of which will represent the 4 curricular competencies categories in mathematics BC curriculum and one and and with an Indigenous Education focus. Although 4 of the videos will have an Indigenous component, we decided to have one video that puts Indigenous Education at the front of the learning and math is embedded. Guess which group I'm a part of and spearheaded for? I love that we are doing both approaches of embedding Indigenous Education and mathematics.
I love my team too… Max and Jared. All three of us are non-Indigenous but want to model for the field the learning process it takes to learn about our local Indigenous community and how we can embed this into our teaching of mathematics in light of BC's Curriculum. WE ARE THE LEARNERS. I love how our motto is: We don't know, but we will learn and try. We are scared to do this in many ways but really excited as well. LOOK AT OUR THINKING. I love this… a white wash WALL. I need one of these. But what we did was brainstormed a bunch of ideas around a framework focussed on Bentwood Box. To date, we have been doing our local homework. How would this lesson activity apply to non-coastal Indigenous Communities and how can Teacher Candidates be part of the learning process. We aren't the experts but we are making connections to those who are… local to our communities. We are not the knowledge keepers. We are the math educators and we want to learn about our local Indigenous communities, urban and rural.
I love this kind of work. Teaching, learning, creating, leading, sense-making, exploring, connecting, problem solving, communicating, personalizing, imagining, and co-developing. I am a part of two incredible learning teams with FNESC and OSBC. It's in these opportunities I see myself growing as a learner and educator. The work is not easy and we often have dispel what we think we know to learn something new. I am learning. The content I get to learn with the FNESC writing team is invaluable. The material we are creating with the OSBC team is inspirational. I get overwhelmed with gratitude (and humbled) when I am reminded in situations like this of where I came from and where I am going. Although I am an Assistant Professor at a university and involved in teacher education and graduate studies, I am a secondary mathematics educator. I was a math teacher. I am a math teacher. I am supporting math teachers. I feel very grateful.