Three of Six: Networks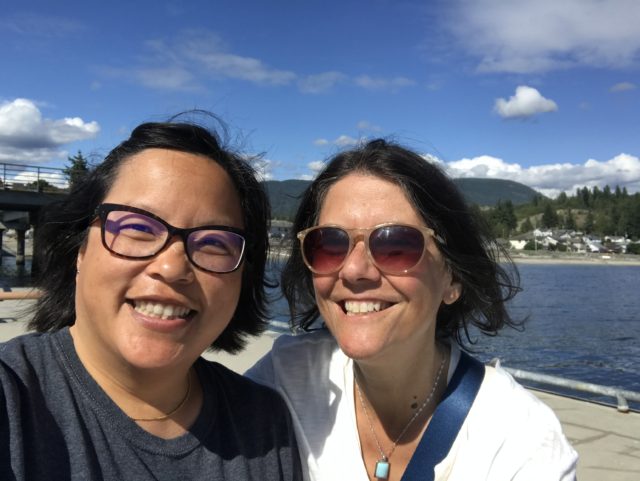 First of all, I have all of my computers back from the shop. No more phone blogging for this mini-blog series. Thank goodness because I noticed on the last two blog entries that some photos were upside-down. Yeesh. You can't see formatting so well on the phone, but the orientation of photos have been remedied. Second, I've been thinking about this blog entry for some time. I love the reflective nature of the mini-blog series and Three of Six: Networks has come together very nicely… or shall I say, serendipitously.
Once again, I would like to thank @RosePillay1 for challenging me to do a mini-blog series and @JanetChowMSc for moderating the 6th anniversary #bcedchat and supporting Rose's challenge. I don't think that I would have moved forward otherwise and I am very grateful. Both Rose and Janet are in my Professional Learning Network (PLN). This blog entry is about NETWORKS and I would like to describe 3 recent examples that exemplifies the "power of networks" in professional learning and how it played out for me.
The first example is this "Beyond Report Cards – Assessment" Facebook group my friend Shannon Schinkel (@dramaqueen4) started up. When she invited me to this "secret" Facebook Group on Wednesday night, there were only 4 of us. Three days later on Saturday afternoon, there are now 730 members. The group is growing exponentially and exceeding expectations. Do you know how many times I took a screen shot of this image below? My first screen shot started at 479… then it was 536… to 601… to 665… to 707… to 730. I had to stop taking screenshots and write this blog. AMAZING is all I can say!!!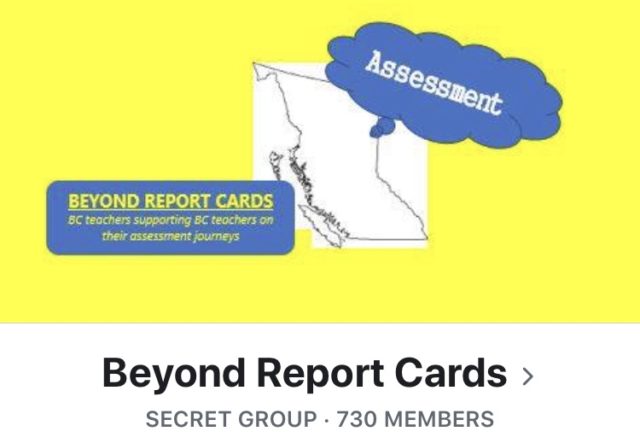 This is a beautiful NETWORK and we are still doing introductions. To join this group, you have to be invited and accept the invitation.  BC educators inviting BC educators. Once the group establishes its membership, Shannon will make the group "public." I was so impressed how many BC educators who were interested in learning and sharing more about assessment and going "Beyond Report Cards." Yay for Shannon!!! She saw a need and went for it and I am happy to support her in this initiative. I am a moderator for the group and she's the administrator. Really… Shannon is taking the lead and I am super proud of her for creating this group and facilitating a discussion with BC educators about formative assessment on Facebook.
The crazy part is, Shannon and I first met on Twitter. We were mutual followers and met face-to-face for the first time when I moved to Prince George. Her hospitality and kindness will not be overlooked. She welcomed me into her community and took me out for a walk to the Ancient Forest when I first arrived. We co-modded #bcedchat a couple of times and once about assessment. I know that we are kindred spirits regarding assessment and I am super stoked about her excitement and passion. She is willing to play, experiment, and share with others on Twitter and Facebook. Ironically, most of my PLN is on Twitter, so I felt somewhat limited as to who I could invite to this "secret" group. The numbers don't lie and BC educators are networked. People will join the FB group over time. I am looking forward to Question 1 on Monday. It's going to be great!!!
My second example just happened on Friday during one of my edu-walks with my friend Caroline (@caropicard). Seriously, we ALWAYS talk about education… which I love. On our walk this day we were walking along the waterfront of the Sechelt Indian Band. There is a row of little cottages at the end of this road, which terminates at a small sandy beach. We have done this walk in awhile and it was so fun to walk along this road again imagining us sitting on two lounge chairs that are situated on a little platform on the water. We like to dream. We were walking in front of a truck on this road where this couple was politely trying to pass us to get to one of these cottages. Caroline and I moved out of the way and we reached the end of the street. We turned around to walk back to Sechelt.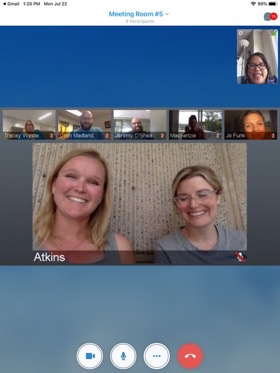 On our walk, Caroline and I were talking about Indigenous Education. I was sharing with her my learning experience that I just finished online with the UVIC #tiegrad led by Dr. Valerie Irvine (@_valeriei). She was facilitating an online version of an EdCamp with her Technology In Education (TIE) MEd cohort and it was brilliant. We went through the entire process of signing up, providing topics, voting for topics, and participating in one (or more) of the topics online via BlueJeans. One of the five topics being discussed was Indigenous Education. Given my interest in Indigenous Education, I joined this group (Group 5) with some #tiegrad students and researchers from outside of the cohort. I will blog about this event further in Five of Six: Exciting.
Caroline and I were discussing this online EdCamp session and SERENDIPITOUSLY Jessica Silvey (@weavingwoman4) jumped out in front of us during our walk. Literally, she jumped out in front of us and said, "Are you Christine? Do you remember me? I'm Jessica Silvey." I was so starstruck. I thought I recognized her in the truck but I said NOTHING. She's a weaver from the Sechelt Nation. She holds weaving workshops in Sechelt, Squamish, and the UBC Museum of Anthropology. She is connected to my friend and colleague Janice Novakowski (@jnovakowski38) who just visited Jessica last week. I know Janice from Twitter, #bcedchat, FNESC, and BCAMT. It was such an amazing moment for Jessica to jump out and introduce herself to us because she wanted to show me something. I introduced her to Caroline and we proceeded to Jessica's home. OH MAN… I was so enamoured by the CEDAR all over her patio. I wanted to take pictures so badly, but restrained. We walked inside Jessica's home and she showed us a "kit" she is working on for the school district. It was a BASKET OF CULTURE. It had cedar, shells, slate, a map, handouts/flashcards, the shishalh dictionary, story books, and so much more. I was OVERWHELMED, excited, and very curious about how I could use this kit in my classroom. She is working on this in collaboration with Kerry Mahlman (@allnationscoast) from SD46.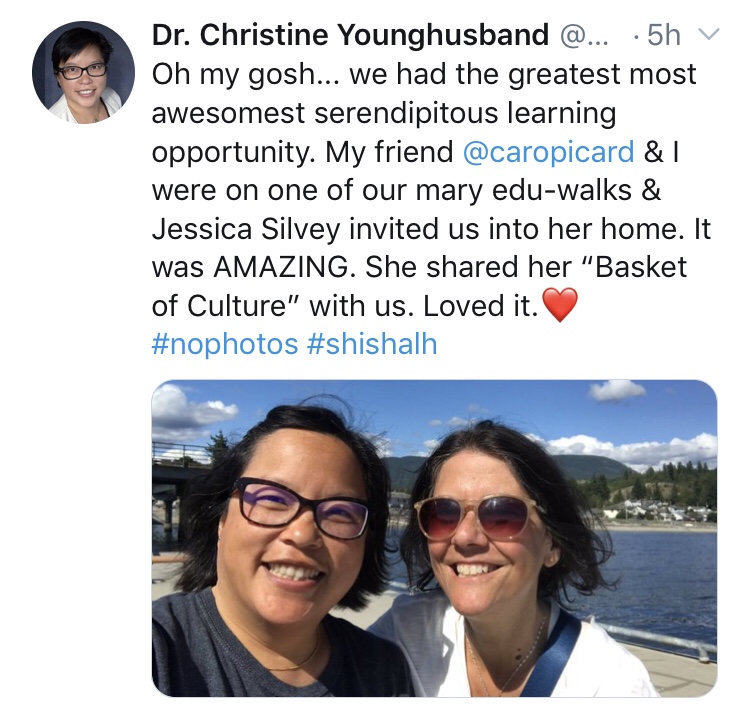 I could not believe the SERENDIPITY of this interaction and knowing of the upcoming professional development days in BC dedicated to Indigenous Education. I was so happy with our conversation, but no photos taken… out of respect and privacy. As a result, I took a selfie with Caroline and I on the Sechelt pier after our visit and walk… then tweeted about it. Jessica tweeted back. That excited me as well. This is a connection I would like to continue. I want to learn and understand more. This I know, WE ARE NETWORKED.  I was vibrating after that visit. It was such an honour to be in Jessica's home to talk about the kits, Indigenous Education, and the kit's potential.
My final example to briefly highlight and emphasize the word of NETWORKS to describe my professional learning this year is this photo of Sandra McAuley (@sandramcauley72) from SD 54. She works in Smithers and she's a member of my #PLN, much like the others I've mentioned above. How do I know her? From TWITTER. She welcomed me with open arms when I first announced that I was teaching in Prince George at UNBC. We had many chats on Twitter about meeting up in Smithers or Prince George. Neither has happened YET to date. But we did meet face-to-face at the BC Core Competencies Ed Camp in Richmond, BC that is lead by Janice Novakowski (@jnovakowski38) and Carrie Antoniazzi (@carrieantoniazz)… who BTW were inspired to create this camp for BC educators from a conversation on #bcedchat… and Sandra and I met face-to-face in Sechelt!!! She was visiting and we met at the Lighthouse Pub. The 5 hours we met felt like 5 minutes.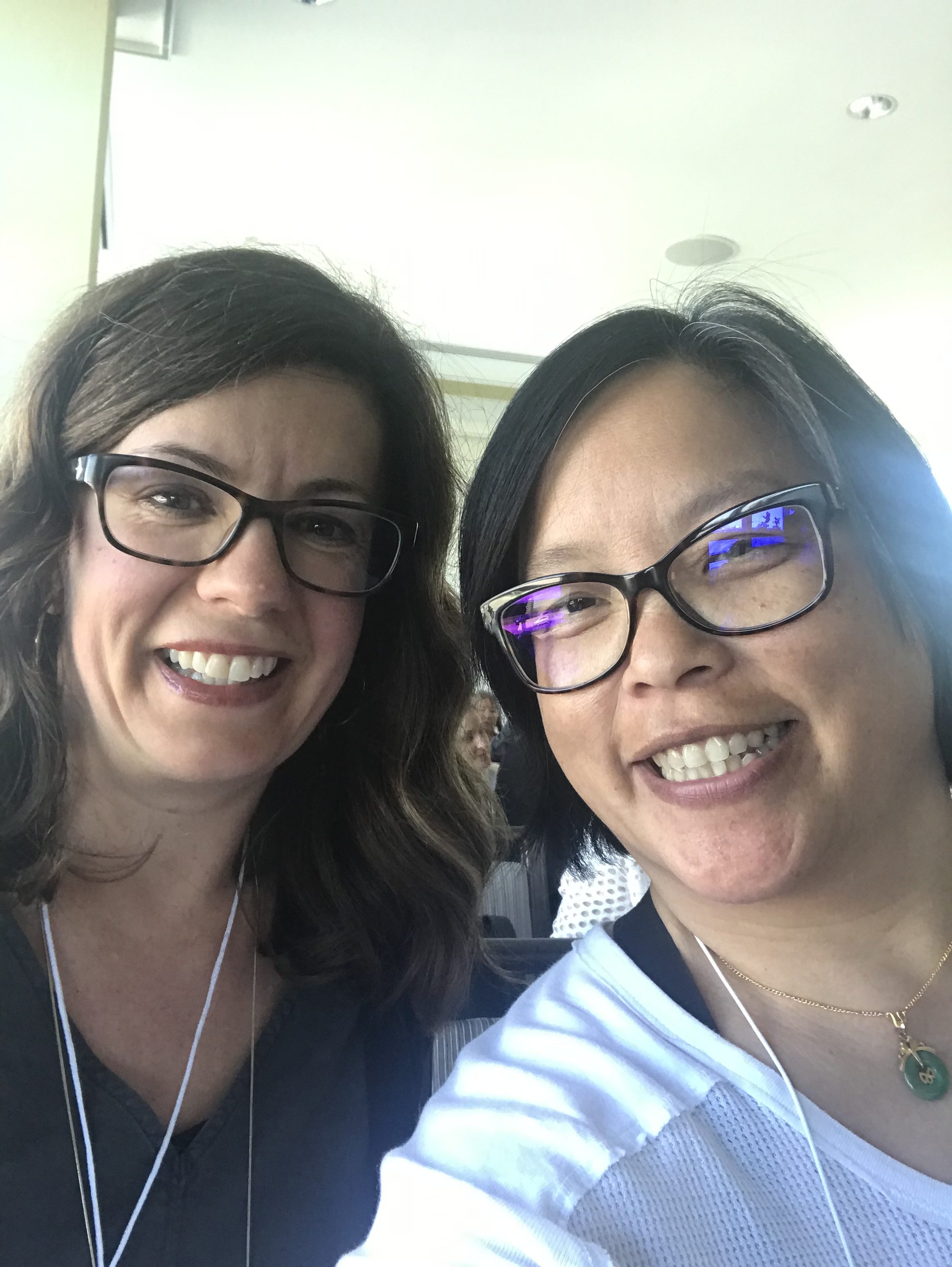 It is so fun to meet members of my #PLN to delve in on some edu-talk. It was amazing to meet up with Sandra. I got to learn more about her practice, pedagogy, and passions. I am soooooo inviting her to guest speak at one of my classes in the fall. She's got a tonne of expertise and I want to share that with my teacher candidates. Sandra is super, duper awesome and I can't wait to collaborate with her soon… but she is one example of the AMAZING people in my PLN and I have already mentioned a few in this blog. Build your PLN. I only mentioned a few examples in this blog entry and can think of many more. NETWORKS is a place to be for your professional learning. What networks are you a part of? How do these people contribute to your professional learning?