Success Stories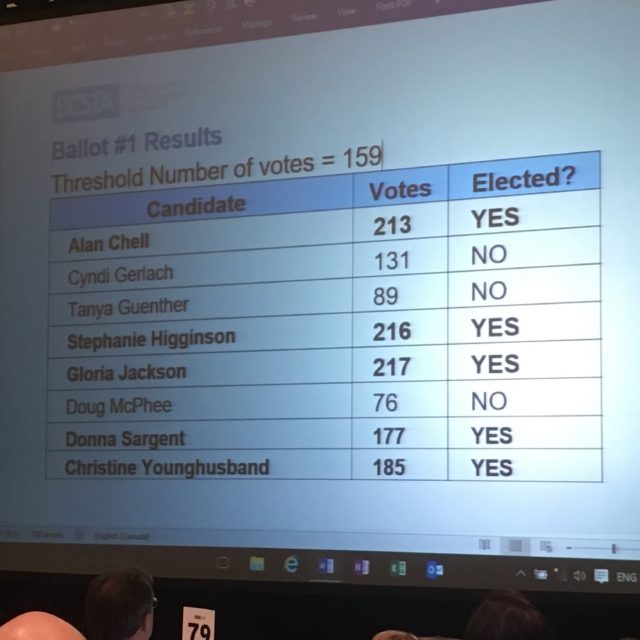 Wow… the BCSTA (BC School Trustees' Association) AGM has ended and it's time for me to get back to writing mode, parenting, and all that I do that is edu-related. THANK YOU to all those who had supported me at the BCSTA AGM. I am so honoured to represent you all again as BCSTA Board of Director. And, thank you to all those who put their names forward. This is not an easy thing to do… putting yourself out there amongst your peers with hopes of appealing to them and representing them at the provincial table. I have a high regard for those who have the will, love, and intention to advocate for BC public education… and even more so for those who put their names forward for the Board of Directors annual election. I look forward to working with the 2016/17 BCSTA Board of Directors as we head towards the provincial election next year in May and making BC Public Education a priority.
The BCSTA AGM 2016 was a success. The opening keynote with Samantha Nutt and ending with deliberation at the AGM. BCSTA is a member-driven organization and the Board of Directors seek direction from it's members from motions from AGM and Provincial Council, but also from its members directly. I love the diversity of our 2016/17 board but also continuity of many of the board members returning from the 2015/16 board. I was absolutely surprised that the board of directors were elected with only ONE BALLOT. Normally, this would take 3 to 7 rounds of ballots. This sent a message to me that it was very clear to the assembly who they had wanted on the 2016/17 board of directors. However, this blog is about SUCCESS STORIES.
First I would like to mention Gloria Jackson who topped the polls this weekend. She was nominated from the floor by her colleagues from the BCSTA Aboriginal Education Committee. She is the outgoing chair of the Aboriginal Education Committee. I loved how her colleagues from this committee nominated her, supported her, and introduced her to everyone in their network during AGM. It was amazing to see how membership can wield a particular outcome. Coming from the floor, Gloria handled the Candidates Forum and 3-minute speech beautifully. I appreciated the support from her family (AKA. BCSTA Aboriginal Education Committee), I enjoyed working with her as a member from the BCSTA Education Committee, and I look forward to working with her this coming year on the 2016/17 board of directors.
Second, I would like to mention Stephanie Higginson who placed a close second in the polls. She too was nominated from the floor last year at AGM. She is a grassroots advocate and has been an excellent addition to the 2015/16 board of directors. I much enjoy her passion and motivation to activate. Stephanie is also an educator and academic who has invested her time as school trustee, public education advocate, and parent of her two little boys. She did exceptional at the AGM as well and delighted to see that members welcomed her return. To follow up, Alan Chell is a stable pillar to BCSTA and I appreciate his knowledge, expertise, and clarity. Both Stephanie and Alan are a pleasure to work with on the board. Then, Donna Sargent and myself round out the 2016/17 board of directors. Thank you to all those who provided me with feedback and encouragement. It's going to be a great year.
Third, I would like to mention school trustees. Admittedly, I was not campaigning as much as I should have during the AGM as I would rather connect with individual trustees, to get to know them better, and gain a deeper understanding of what is. There is always a story behind what we see and sometimes this cannot be established without taking a moment to get to know person and figure out what is motivating a person (or board) to do what they do. I am also curious as to why people become school trustees. Some trustees are former educators while others come from PAC (parent advisory councils). After the election and AGM, I took the opportunity to hang out with some trustees after hours at the pub. This is a great way to connect with trustees without worrying about speeches, campaigning, or making an impression on others. I am grateful that some trustees are willing to chat about their school districts with pride, but also share some personal stories about themselves.
There are two trustees I would like to mention without mentioning their names. I feel connected to these two and wanted to know more about them. I have great respect for both of these trustees. They have so much to bring to their boards of education. They are both parents, but not former educators or PAC members. They are community members with a vested interest in public education. I love their authentic nature, expertise and knowledge of their communities and work, and contribution to public education. They are both kind and generous… and apolitical. They are just fun to be around with. I feel very fortunate that they shared a few stories about themselves. They talked about their childhood, schooling, and where they are today.
As much as I thought I had much in common with these two, after listening to some of their stories I felt that I had nothing in common. I felt uneasy about sharing my stories because they are nothing like their lived experiences. These two had vulnerable home lives as children, a grade 12 education, and few fond memories of their K-12 experience. Yet, these two are the nicest people, extremely successful professionally, family-oriented, and wholehearted in the truest sense. And, they think that I am much younger than I truly am. This is a good thing. What we do have in common is our love and devotion to BC public education, governance, and doing what's best for our students. I am aligned to these two, as well as many others.
I appreciate these success stories. We all want to make a difference in BC public education. Thank you for the time together… as well to all those I had the chance to HUG and converse with during AGM. We're doing great work. Keep it up!!!