Love Where You Are
Day 43 (of 187) – November 2, 2018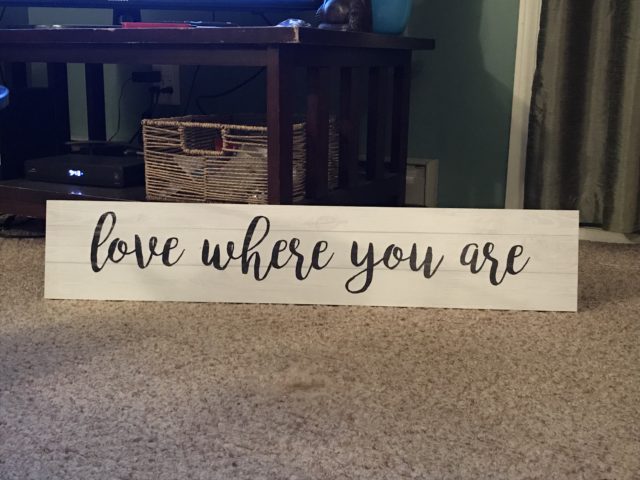 Love where you are… I saw this sign tonight and I had to get it. I had an incredible day with Dr. Susan Crichton and the Design Team today. We are spending 2 intensive days reimagining education. How lucky am I to be in the place at this time? I feel incredibly grateful and honoured to work with the people that I do and I am humbled to be a part of this work with my colleagues. Best of all, I love the students. They are resilient. My students teach me something new everyday. I love how the leave me thinking… and WONDERING. I love being in this state of mind. I love looking at the big picture and observing what makes something "good" or "bad." Best of all, I love imagining what if.
Is that creepy? I am always left in a state of wonder… as mentioned in previous blogs… I am wondering about assessment, structure, and student learning. That's today… it's likely that I will be wondering about something else… like learning resources, e-portfolios, and sense making. Learning is fun… and it's ongoing. I have always been a curious person… thinking about my thinking but also thinking about why things are the way they are. I questioned a lot as a child. I don't think my parents appreciated my questions that much. It often led to me and my dad fighting and my mom trying to bridge the gap between me and my dad. Nonetheless, I had questions. Admittedly, I did not question too much as a student of K-12 or as an undergraduate student. I was too preoccupied by "getting things right." But as a K-12 educator and school trustee, I had plenty of questions to ask.
Now, I am at the university as part of a redesign team and it's almost like I FOUND MY PLACE. I am asking questions. I am contributing my voice. I am listening to others. We are working together to reimagine what teacher education can look like. It's absolutely amazing particularly when leadership has your back. Truth… it's something that I had always imagined to be a part of. Where we can be curious, be playful with ideas, and collaboratively come up with possible proposals for faculty to consider? WAY TOO FUN. However, to move forward, you have to LOVE WHERE YOU ARE. In saying that, it's not about being content with the status quo. It's about acknowledging where you are and being OK to walk away from old ways of being to transform into another. When we are not OK, that's when we hold on to old ideas so tightly and thus, we can't change.