Indigenous Day of Learning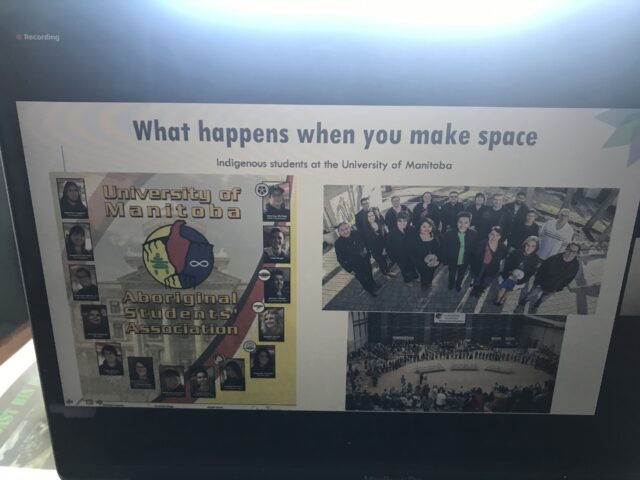 Week 28 – September 25, 2020 – SD57 Lhulh'uts'ut'en
What an incredible day of learning. I am so grateful that SD57 Indigenous Education Department invited the UNBC Teacher Candidates and Instructors from the School of Education B.Ed. to participate in this day of professional learning. It's an opportunity for our teacher candidates to learn from Indigenous Canadian Scholars, Dr. Dustin Louie and Dr. Niigaanwewidam Sinclair, but also learn with currently practicing teachers and from community members from the north and central interior of BC. This gesture of generosity and grace from the SD57 Director of Indigenous Education Pam Spooner strengthens the relationship between the school district and School of Education. I am so honoured and humbled to be part of this Indigenous Day of Learning as an instructor, educator, and learning.
Yes. MAKING SPACE. This is our job and resonates with me. #SD57 #unbced

— Christine Ho Younghusband (@ChristineYH) September 25, 2020
The pandemic lent to a unique opportunity for myself, our teacher candidates, and BC educators to access professional learning via online. I was learning from home. I loved both of the keynote speakers, but I also appreciated the break out sessions I attended to deepen my understanding of Indigenizing, Decolonizing, and local and national lived experiences with respect to Truth and Reconciliation. What resonated with me the most was MAKING SPACE. I've been thinking about this as an educator but also as educational leader in higher education. How do I make space for Indigenous Voices? How do I become an activist as an educator? What does it mean to Indigenize and Decolonize my teaching practice? How can I contribute to Truth and Reconciliation in Canada? How will I deepen my understanding on Indigenous Education and deepen relationships in community?
I am really looking forward to this. #SD57 #unbced @EducationUnbc https://t.co/o2c4qrCvL2

— Christine Ho Younghusband (@ChristineYH) September 25, 2020
I love how a professional learning opportunity leaves me thinking and left with questions to ponder, address, and hopefully answer. The goal and hope of professional learning days like this one is to KEEP THE CONVERSATION GOING. Professional learning days serve as a catalyst, but now the work is in our hands. What are you going to do about it? It's so easy to move forward and forget about some of the lessons learned on these incredible and inspirational days of learning. I was so provoked on this day of learning and I took many photos of powerpoint slides for me to return to and consider. I also tweet during these days with some of the big ideas I walk away with. For the remainder of my blog post, I will share the tweets I made on this day. This is a great way to collate and re-share what I have learned that day. Thank you again to SD57 Indigenous Education Department and to all the speakers, staff, and participants who made this incredible event possible. All my relations.
Love that. "Using the land as a pedagogical tool." Connect the things that we are learning with land based teaching and learning. The land as Teacher. How do we speak on behalf of the land? – Dr. Dustin Louie. Indigenous Pedagogies. Reconciling with the land. #SD57 #UNBCED

— Christine Ho Younghusband (@ChristineYH) September 25, 2020
Holistic teaching. Embedding the HOW into lesson planning. Holding ourselves accountable with shared principles. Feeling valued. Process based. Not just about learning the what. Dr. Dustin Louie. Indigenous pedagogies. PISIM. #SD57 #UNBCED

— Christine Ho Younghusband (@ChristineYH) September 25, 2020
WITNESSING AS A PEDAGOGY. Love this!!! One person plays the role as witness and video record about their learning. One witness per week. Student ends then listen to the recordings then make a claim. Yes!!! Dr. Dustin Louie. Indigenous pedagogies. #SD57 #UNBCED #transformative

— Christine Ho Younghusband (@ChristineYH) September 25, 2020
Love that collective and process to establish a shared understanding of witnessing. Witnessing is defined differently from different territories. Sense-making. #SD57 #UNBCED

— Christine Ho Younghusband (@ChristineYH) September 25, 2020
Love and relationships in education. Restitution and Restorative Practices. Giving a voice to the victim and how they feel. Building relationships and community. It's not about blame. What happened? What can we do next? #SD57 #UNBCED #community #relationships

— Christine Ho Younghusband (@ChristineYH) September 25, 2020
Accents and slang. Big aha. Be compassionate. #SD57 #unbced

— Christine Ho Younghusband (@ChristineYH) September 25, 2020
Heartbreaking. Leaving community. Sent to boarding houses for school. Indigenous youth. Funding dependent. Separated from families and community. Huge transition. Trying to access opportunities away from home. Not equitable. In progress. #SD57 #unbced

— Christine Ho Younghusband (@ChristineYH) September 25, 2020
Love this music video Takla Youth created. We rise. #SD57 #UNBCED pic.twitter.com/XPQSpnP9yD

— Christine Ho Younghusband (@ChristineYH) September 25, 2020
Seeing possibilities through education. Dr. Niigaanwewidam Sinclair.

Curriculum of Indigenous Education
Who am I?
Why am I here?
Who can help me?
Where am I going?

(Curriculum of Teacher Education)#SD57 #UNBCED @EducationUnbc pic.twitter.com/SFpjnvljSn

— Christine Ho Younghusband (@ChristineYH) September 25, 2020
Learning is about RELATIONSHIPS!!! #SD57 #unbced #community #gifts #relationality #circularity #Indigeneity #songs #stories

Schools look different in different Indigenous communities. #innovation

— Christine Ho Younghusband (@ChristineYH) September 25, 2020
"Community is our greatest teacher." Using our senses. #SD57 #unbced

— Christine Ho Younghusband (@ChristineYH) September 25, 2020
"You need to be able to work with Indigenous Peoples. If you can't, then you don't deserve to work. We need an efficient economy and Indigenous People will be a huge contributor in Canada. We need to invest in Indigenous Peoples to benefit us all." #SD57 #UNBCED

— Christine Ho Younghusband (@ChristineYH) September 25, 2020
A provocative statement made by Dr. Niigaanwewidam Sinclair. It's not an exact quote but the essence of his message is there. The urgency to take the time to understand, listen, and invest in our local and national Indigenous Peoples is a call to action for us all. #SD57 #unbced

— Christine Ho Younghusband (@ChristineYH) September 25, 2020
TRC Calls to Action. No.62 and 63.
Reconciliation in Education.

The School as a Social System.
What do schools teach? #SD57 #unbced #relationships

— Christine Ho Younghusband (@ChristineYH) September 25, 2020
What is reconciliation? #SD57 #unbced pic.twitter.com/GM39MDm213

— Christine Ho Younghusband (@ChristineYH) September 25, 2020
I love this idea. ❤️ #SD57 #UNBCED pic.twitter.com/fILkuY0Yc8

— Christine Ho Younghusband (@ChristineYH) September 25, 2020
Thank you #SD57 and @SD57Indigenous for opening your learning space for our #unbced Teacher Candidates to attend. The Lhulh'uts'ut'en Working Together VIRTUAL Indigenous Professional Development Day was phenomenal. @pamelaspooner77 https://t.co/DidrOeys5d

— UNBC School of Education (@EducationUnbc) September 26, 2020