End of the Term
Week 13 (of 38) – November 26-30, 2018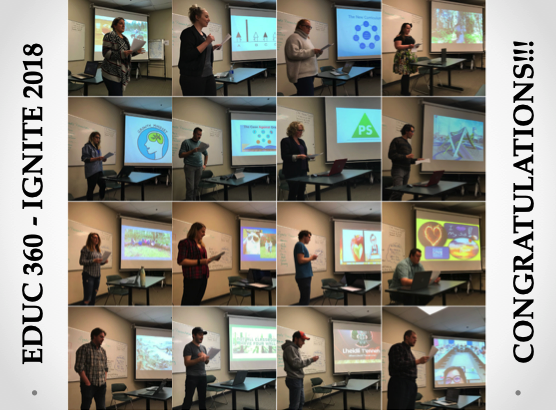 I cannot believe that the fall term has ended. Last classes at UNBC were on Friday, November 30th and we celebrated student learning at the UNBC School of Education with EDU FAIR 2018. This is a new event and hopefully a new tradition at the UNBC School of Education. It's an opportunity for students to demonstrate and share their learning to the public and peer, but also celebrate what they have accomplished. Best of all, it coincided with SD57's (Prince George) Professional Development Day. So teachers, school principals, and senior administration were also welcome to attend… and they did. EVERYONE WAS WELCOME. Student participation and contribution were voluntary. For our first EDU FAIR at UNBC's School of Education history (as far as I know), the end of term event was successful. I was proud of my EDUC 360 who volunteered to present their IGNITE presentations for EDU FAIR 2018 to represent the Secondary Year 1 Cohort.
Here's a collage of my EDUC 360 students sharing and demonstrating their learning to their classmates in our class this week to conclude our course this term. I was so amazed by the quality of their presentations and the effort they took to make a comprehensive 5-minute presentation. They were able to connect "who they are" to "who they want to be" as educators. Many had highlighted place-based learning, formative assessment, personalized learning, growth mindset, competency-based learning, problem based learning, case against grades, 21st Century Learning, the power of geek, the heart of a teacher, and yes… BC's New Curriculum. We landed on two-feet. A great first term with this cohort. Transformation was visible and I look forward to teaching them next term.
I did end up doing an IGNITE presentation for EDU FAIR. I had a moment where I didn't have to do an IGNITE, but it was also an opportunity to share my transformation as an educator working with this cohort, which is connect to who I am and who I want to be. I have spared the blog reader from posting my IGNITE presentation, but I am super pleased with how this cohort is moving forward and I have the pleasure of teaching all 4 cohorts next term with course work and practicum. This will be a new experience for me… to continue teaching and learning with teacher candidates beyond one term. It's a gift and I'm looking forward to it. Thank you UNBC School of Education faculty, teacher candidates, coaching teachers, practicum mentors, school district staff, UNBC support staff, and the community for supporting our amazing teacher candidates at UNBC.