Driven by the Goods Internal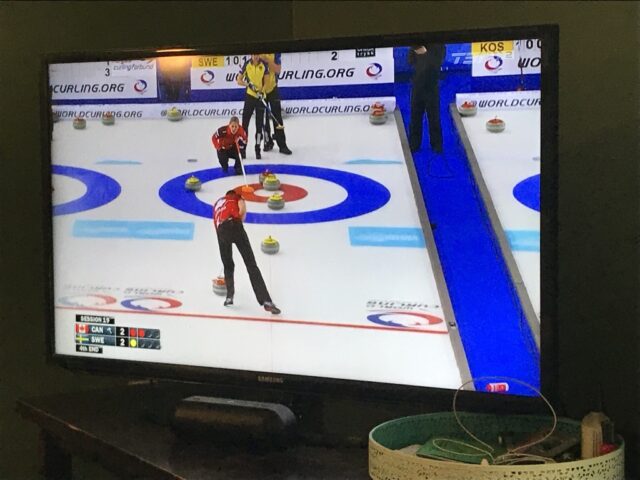 Wow. Here comes another blog entry. The mind is going and well… when you're inspired, you've got to write. I have definitely exceeded the once a week blog entry, but it is Week 7 of the pandemic and living a life of social distancing, so it only make sense to blog to sense-make, wonder, and think things through. I was mentioning in my last blog how some people will ask you THAT critical question that forces you to look at oneself and reflect on the what and why. There are other things in life that just stick with you and you continually learn more about it as you go through life. During my masters program, my first course in educational philosophy talked about Alasdair MacIntyre's (1981) "goods internal to the practice" from his book After Virtue. My mind wrestled with this concept for years and continue to do so. I am reminded from time to time of this learning.
The only way that I was able to understand these concepts was making a connection to curling. It all made sense, at least from my perspective. I excelled at the sport when I was focused on the goods internal. I just loved the sport. I loved strategizing, socializing, and executing. I could spend hours playing and practicing. I just wanted to learn more about the sport and get better at it because it was fun. Over time in high school, my team and I started to get good at the game. My dad started to incentivize me to win. He started to do this right before the semi-finals and finals of the provincials. I HATED IT. I was stressed and motivated for the WRONG REASONS. Long story short, we lost the finals of one provincials, but won the other. I never received the walkman he promised and it didn't take very long for me to lose my love for the sport. It wasn't fun anymore.
I tried so many times to revitalize my love for the sport. I've been playing on and off since high school and that's been over 30 years ago. I just bought new curling equipment this year and curling tickets to the World Women's Championships in Prince George, but with the COVID-19 pandemic, none of that happened. I might try introducing myself to the sport again next year. We'll see. It might be the year after when a vaccine to COVID-19 is created. I can only hope. Anyway, why am I bringing up "the goods internal" and "motivation" up AGAIN. I can't help but think about MacIntyre's work after talking to two of my colleagues on BlueJeans this afternoon. We were checking in with each other and seeing how we were doing. Both of my friends had wonderful news about their work. I was so happy for them. I wanted to share similar news but "I'm on hold right now until further notice." What I did realize was their resilience and love for their work. They are disruptors but it's incredible. They are driven by the goods internal to the practice.
In our work in higher education, your prime motivators are extrinsic. Promotion, tenure, scholarships, awards, grants, etc. Yet, much of that success comes from the intrinsic. People in research do what they LOVE. They research because they are intrinsically motivated. I was reminded of that today when I was listening to my friends. They were recognized for their good work. I know it's been frustrating for both of them and they were not pleasing everyone one the way as they were both breaking ground, but they relented and succeeded. People can see their work, passion, and contributions. In the end, they were "rewarded" with incredible opportunities. I'm not jealous or envious. I am joyful and happy for them. They deserve it and I am so glad they reminded me of this lesson. Be driven by the goods internal to the practice. Learn more about it. Excel at it. Know the standards. Head down. Dig deep. Delve into what I love and trust that my work will contribute to my discipline, practice, and community. For this, I am very grateful.
#pandemicreflections #community #thegoodsinternal