Don't Be Boring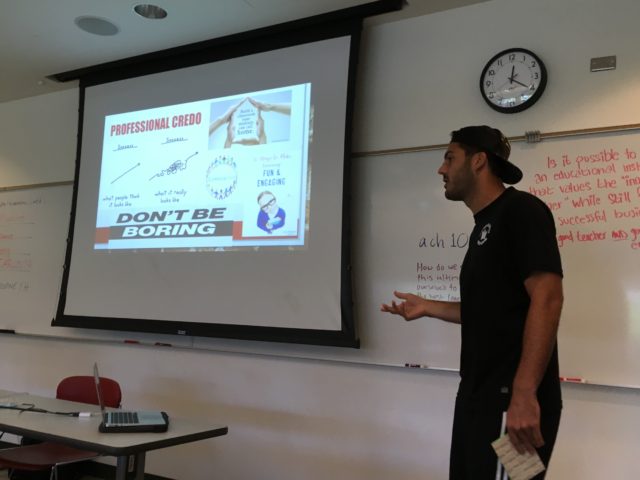 Week 12 – EDUC454D100 – July 25, 2017
Wow. What a way to end a course. Well… we do have a field trip planned for Stanley Park on August 1st with Candace Campo from Talaysay Tours. I cannot wait to participate in the "Talking Trees" Tour and have the opportunity to look at some culturally modified trees. This will conclude my cedar inquiry, for now. I travelled to Squamish soon after our class (and meeting with my EdD supervisor) to the Sea-to-Sky Gondola, but I was unsuccessful… meaning, I did not see any culturally modified trees (or walk on the suspension bridge). Now I can say, I'm not a big fan of extreme heights. There… I said it. The views were beautiful but I was happy to look at it from afar (holding onto something). OK. That's enough about that… now let's get back to my EDUC454 reflection. It's "unofficial," but I like reflecting (unlike my students).
DON'T BE BORING. Words to live by. Thank you Carlo. Over two classes, we embarked on listening and providing peer feedback to 26 Philosophy Presentations as IGNITE presentations. In 20 slides and 5 minutes, students were asked to share their educational philosophy in light of this course. The BIG IDEA was: Environmental Education and Quantitative Approaches are embedded in my teaching practice. What I loved about the presentations was that not one was the same. Yet, they all had the same PowerPoint framework, the same co-constructed curricular competencies to satisfy, and the same content to cover (i.e. environmental education/studies, quantitative approaches/math, their subject specialty/specialities, and teaching & learning). The presentations were not boring. I love listening to their learning. I would like to share some themes I heard over the last two weeks that warm my heart.
THEME ONE:
Not the greatest math efficacy before entering the course… but math ain't so bad…
MATH IS EVERYWHERE.
THEME TWO:
Gotta go outside… it makes learning inclusive, accessible, mobile, and worthwhile…
I can do this with my classes.
THEME THREE:
Enjoyed the course… "Christine opened my eyes…" (meh, something like that)…
Learning is FUN. 🙂
I wanted to take a class photo… which would be impossible because I never had full attendance during my 13-weeks of teaching EDUC454. This was interesting to me. I'm drawn to looking at some statistics and making some inferences, but I will restrain. HOLD BACK ON THE MATH. I made some assumptions… but I was wrong. This has been my BIG LEARNING in this course. When you are teaching… you are never the expert… although it seems to be. Initially, I thought that this blog would be titled "Don't Make Assumptions" or "Not Meeting Expectations." The truth is, that's my junk. Ironically, this was one of my messages to my EDUC454 students… don't assume.
I don't know why I was wrapped around the whole concept of attendance. I guess it is a measurable way of knowing that students are possibly interested in your class, particularly if it's an elective. What I have learned is, even though this is a group who has completed a degree (or two) and have been vetted by the PDP program at SFU… they are a diverse group of learners… with unique lives. That's it. This was not a homogenized group and I'm not sure why I expected that, but I did. They are diverse and wonderful like all other classes out there… and life got in the way for some of them. For others, I'm not sure… but I was also reminded that students are putting on a show for us, as teachers. Generally, students are trying to make an impression…
Well… here's my impression, which you can also read in previous blog entries about EDUC454D100. I'm excited for this group of pre-service teachers. They are an exciting group with a wonderful personality. I'm excited for the students they will teach. They have the love and passion for teaching & learning and I appreciate their diversity and NEW LOVE for learning mathematics/quantitative approaches and environmental education. I share this same love. They guided me throughout the course. I was led by them. From their inquiries, group discussion, and group facilitation, I was learning. In fact, I feel TRANSFORMED. I too had learned more about mathematics. I too want to bring my classes outside. And, I too had a lot of fun teaching and learning.
So, like any good teacher… I adapted the class photo with a EDUC454D100 collage made on Pixlr Express of my class during their Philosophy Presentation… sans Carlo. BTW: He was the "feature image" but also a 5×5 grid (aka. 25 students) worked much nicer than a 2×13 (aka. 26 = actual number of students). Sorry Carlo. It's not personal… it's math. 🙂 Thank you all for having me as your sessional instructor this summer session. I wish all of my student a happy practicum, a happy convocation, and/or happy future employment as secondary teachers. Until we meet again… C
PS. Oh wait… that made for a dramatic close, but I will see some of you next week at Stanley Park at our Talking Trees Field Trip (Week 13). What was I thinking? #lol