The Closers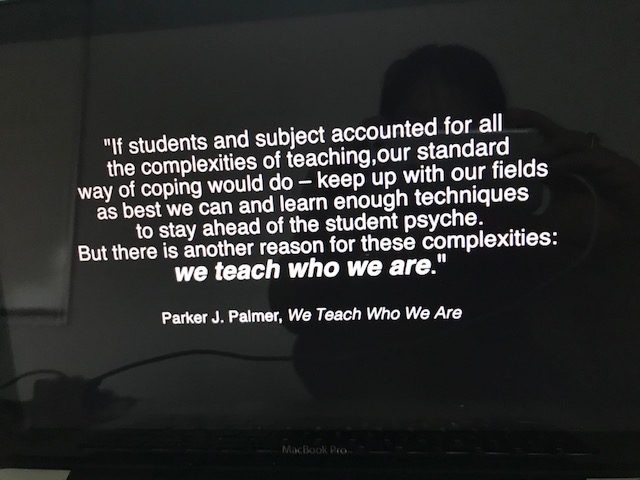 #EDUC454E100 – Week 11 – July 19, 2018
We are nearing the end of EDUC454 course at SFU Surrey. This is our last week of student-led learning activities. Next class we are heading into our summative assessments with IGNITE, one-page journal summary, and inquiry project. It's absolutely amazing how this class took over the course. That was my intention. Admittedly, I may have underestimated how much time students needed to delve deep into their warm-up activities, reading summaries, and group facilitation. The other thing I have learned is that students are juggling other classes and LIFE, so some things that are posted online via Canvas may or may not be completed. I understand the complexity of university life, but I also understand how assessment influences learning. I will reveal during my IGNITE presentation that I wanted these students to play, experiment, and learn risk free.
This was our last group facilitation learning activity. This group planned their learning activity to be OUTSIDE. As you can see, we are INSIDE. Another Thursday where Holland Park is closed due to organizing for a community event. Much like other student led learning activities in previous weeks, we had to make adaptions… with space, place, and time. Some had their activities postponed while others managed to facilitate in class. This group opted to contact SFU Surrey security to see if we could use the mezzanine. Thank goodness for another student for sending me a message indicating to me that the park was being closed off due to the Fusion Festival. I passed on the message. This group anticipated a possible park closure… and here we are.
This group wanted to be situated in place… Holland Park… because their learning activity involved using space to Cooperatively Design an Amusement Park in Holland Park. They wanted teams to look and observe the surroundings in addition to have "real people" engage in their planning. This is the unfortunate of our circumstance because we could not postpone this learning activity (it's the last week) and we needed space and the interaction of others to be a part of this learning experience. So… the group settled with the SFU Surrey's mezzanine and I like to thank Sandy from SFU for supporting our class, gracefully accommodating us, and managing the short notice (as she was in the midst of setting up a stage adjacent to us). Overcoming this obstacle, this team borders off the learning space with yarn. You'd be surprised how many people OBEYED THE YARN but also observed what EDUC454 students were doing. We were showing off our learning.
I loved the problem based learning of this learning activity, much like last week's group facilitation. Teams were given a problem… To design an amusement park in Holland Park. We had to consider potential problems and possible benefits to the environment and community. Before we started, we acknowledged the Squamish, Musqueam, Tsleil-Waututh, Katzie and Kwikwetlem peoples on whose unceded traditional territories the three SFU campuses stand. Once given the problem, teams had to brainstorm for a few minutes about what they wanted to create, then they sent in one representative to negotiate with other team representatives as to what space they needed and ensure that there was no duplicates of ideas. After negotiations, it did not take very much time to place MORE YARN to and how one of the group members even brought a wagon to the university to bring supplies for students to work with to create a model of their design.
Ideas ranged from a zipline, a slide, a nature-based park, and a non-environmentally friendly gymnasium area that was situated under a dome (but would make lots of money). I liked how groups were collaborating and making the best of the situation. People who walked through the mezzanine did look to see what was going on. I wonder what this activity would have been like had we been situation in Holland Park with "real" community members engaging with us. That said, the outcome was creative and each team had to report out to others what their ideas were and how one area of the park influenced the other. A student was recording problems faced in their group and how they resolved them. This would have been another interesting discussion to have for this learning activity to describe how they were modelling design thinking and how it works.
In the end, I appreciated how students in the class actively and willingly participate in the group facilitation learning activities. They take about 1.5 hours and sometimes we would take a week or so to delve into the learning activity deeper to explore the possibilities of what they have designed and created. It would also be fun to have the opportunity to engage in self and peer assessment to identify some ways to improve the learning activity and having the opportunity to try again. That would be ideal. That would be leaning towards a methodology class but also it leans towards deeper learning and how we can create these learning experiences for our students. Something to consider in future.
We head back to class after the break (and course evaluations) to head into our last reading summaries. Another student enjoyed the article, Heart of a Teacher, and spoke about the perceptions of teaching if one is not clear about one's identity and integrity in teaching. While another student did the written summary but I want to include it here as she did hers on PowToon because she wanted to learn more about the application. Why not? Click link below:
https://www.powtoon.com/c/g5zC9hp1Krv/1/m
This student on the other hand opted to make a YouTube video for her Oral Presentation to summarize the weekly reading. It was nicely done. Please watch YouTube below:
The class concludes with three warm-up activities. The first one was facilitated was an awesome activity focused on vocabulary, sense-making, and student composition of meaning. I loved this activity. I would definitely use this one in a high school math or science class. Tami made unique word sets for each group. One person faces away from the board and has to guess the word while the other two are trying to describe the word without using the word. I love the collaboration and innovation needed to do this well.
The second warm up activity involved taking us outside of the classroom. This student acknowledged the unceeded territory and placed markers around the oval. He spoke about his identity and heritage and asked us to walk around the oval to find markers of continents of relative distance away from North America or Vancouver. The student facilitator stayed behind while the rest of us moved forward. A huge cluster of us stopped a Europe, a smaller cluster at Asia, and one person stopped in Africa. We each had small group discussions in these smaller groups talking about place, heritage, and personal identity. After a few minutes, we were asked to return back to class and the student facilitated a discussion. I was so wowed by the concept of distance, being of first generation Canadian, and loss of language thus no connection to culture or may heritage. The discussion was AMAZING and could have lasted a lot longer because it was meaningful, personal, and purposeful. To get a sense of our discussion, Erin and Stephen mentioned this video clip from the Daily Show with Trevor Noah (Behind the Scenes):  https://twitter.com/TheDailyShow/status/1019751037853241344 
We go overtime and our last warm up activity was an IMPLICIT/EXPLICIT activity where students had to draw an important place to them. They traded pictures with a partner and that person had to describe what that saw explicitly and implicitly in the picture, then tell the other what they saw. The room was chatty soon after drawing. Once again, another student led learning activity condensed to 10-15 minutes when it could last for 1-2 hours. It's amazing what we accomplish in so little time. It also tells me, to focus on the competencies and deeper learning, you need to make and take the time to do it.
No weekly journal questions this week. Poorly timed on my part, but there were some optional questions and excellent questions posed by students for discussion inspired by our last weekly reading, Heart of a Teacher – Identity and Integrity in Teaching by Parker Palmer (1998). Who was my favourite teacher? Mr. Negus (Drafting 11). My not so favourite teacher? (No comment). What I loved about Mr. Negus was that he loved what he taught, he respected students as equals, and he challenged my thinking in a playful and thoughtful way. I could say that about a few other favourite teachers. They loved what they were teaching and they oozed their subject area. Their passion for what they taught was evident and motivated me to learn. It's like what Palmer said in the YouTube video… I remember how these teachers made me feel, not what they had taught me.