Curling as an Exemplar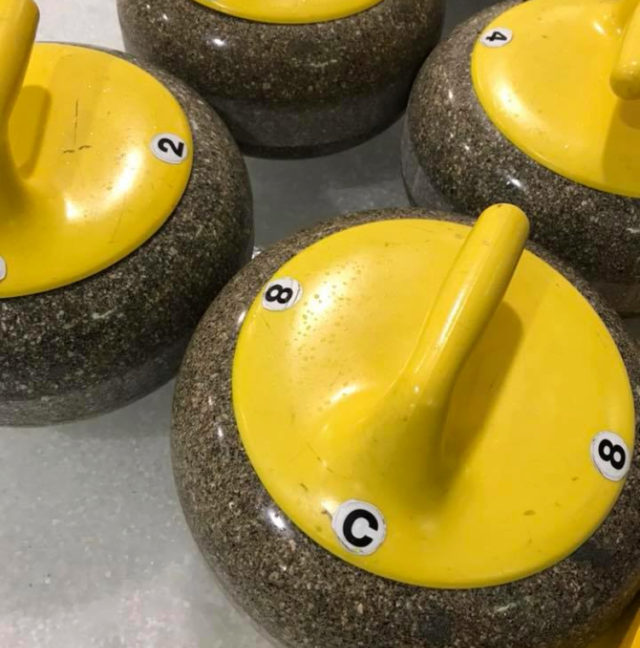 I've returned back to curling after YEARS of not doing it… and I returned part-time. What I love about curling is, you can do this sport at any age and anytime. I learned how to curl when I was 13-years old at the Prince Rupert Curling Club, I had an 8-ender scored against me in my first bonspiel, and I was a high school provincial champion… in the 80's!!! Yes. Good times. I curled during my days at university, curled at the Gibsons Curling Club when I started teaching, and left the sport when I had my kid. So why did I return back to curling? It's been an on-and-off love affair with the sport. I love to curl and being in my post-doctoral self, curling does "feel a bit different." But, that's ok. I still have fun on the ice, I am driven to make the kick-ass shot, and I love looking at the big picture of the game to strategize "a win" with my team. It's an exemplar of what I like to do.
The more I begin to understand myself, my strengths, and my purpose… what I know for sure is, I am interested in systems, leadership, and alignment. Systems are complicated because it's created by people for people. You should share the same objectives, but you don't share the same role. You can't. Much like a curling team, the Lead, Second, Third, and Skip all play different roles and each player has their strengths. It's important for each member of the team to understand their roles, what strengths they possess to contribute to the team, and what role each team member plays and what strengths they possess to contribute to the team. This is KEY for teamwork, communication, and flow.
When one misunderstands their role or another players role… or if one believes that they are in the wrong position or is unaware of their strengths or others… or if one player thinks that they are responsible for doing all of the roles, the system is disrupted. As a result, the team becomes disfunctional and it is highly unlikely for the team to be successful when there is a misalignment in roles and misunderstanding of how all the roles must work in tandem to make the shot and win the game. The struggle becomes internal, not with the opponent of the game. Focus is distracted by the "little things." In the end, the game is not fun to play. It becomes too serious and nobody is winning.
A shared understanding, trust, and respect are key elements to a good curling team. What helps establish these key elements and thus maintains and nourishes these key elements is communication. Do we feel safe to question the skip? Does the skip have a clear vision? Is the team working together to make the best outcome of every shot (because every execution is rarely perfect 100% of the time)? Are we clear about our WHY for each shot, the role we play, and how it plays in the big picture? This cohesion is only established with clear and concise communication. Furthermore, it takes LEADERSHIP… from all players. The skip is the leader of the team but each player is a leader based on their strengths, knowledge, and expertise. Everyone is a contributor. Collectively, the team makes the shot and wins the game. No one player is better or more important than the other. We each have a role to play… so know it and play it well.
Any second guessing, ego bruising, or parking lot conversations will automatically disrupt the flow of the team and the harmony that's needed amongst all players to achieve a common goal. Ideally, you want other teams and team members looking at your team and have them ask questions about your team and how they can be just like you. You can't control others but you can certainly influence them through your actions that this is what we are all about, we are a team, and we are open to any inquiries to help your team or team members be a better team or player. Being a cohesive and collaborative team builds on our collective efficacy but also our own individual confidence and competence.
I loved it when players from the other team asked me last night what I would do in their situation. It was the end of the game. My team had a rock over the pin and nestled in front of our opponent's rock. There were two rocks covering our shot rock and many other rocks surrounded the house. It was pretty clear to me that my team would steal the point, but we would still lose the game. Nonetheless, the opponent wanted to throw their last rock. I told them that I would throw the rock through. They said, what if it wasn't the last end? I said, I would still throw the rock through if we had 2 more ends to play. They did not understand my rationale and proceeded with the call of drawing to the button. My advice was not taken. Truth… they didn't have to throw their last rock to win the game.
As anticipated, we got the point and lost the game… but the opposing team members asked me a follow up question: Why would you want to throw the rock through? I explained my WHY and how it played in the bigger strategy of the game and demonstrated to them by moving the rocks how it was impossible for them to get one point. Get two points with the hammer next end and you're up by 3 coming home. You got the game. They watched me kick the rocks as if it was a take-out and we looked at the rocks. The yellow rock was still closer to the pin by half a centimetre. My team would have still stolen a point if they had thrown hail-mary shot with hopes of getting one.
A BIG AHA from my opponents and I love how they had questions about the game. Solace. This is what I love that about teaching and learning… and how leadership, teamwork, and influence play a huge role in the success of my team, the teams we play against, and for the sport as a whole. I love that I have returned back to curling to be reminded of these lessons and metaphors of what I like to do and why I love the sport. What's the big picture, who are the players, and how are we going to get there?