Five of Six: Exciting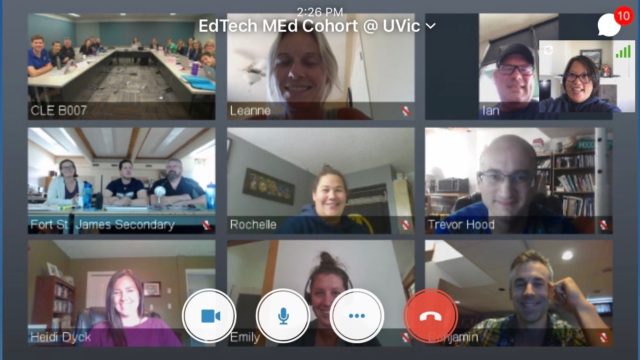 Oh geez… as I look back at my original blog post of accepting this mini-blog challenge by @RosePillay1, I realized that the question posed by @JanetChowMSc, the moderator of #bcedchat on June 30th was asking for 6 words to describe your PERSONAL LEARNING… not professional learning, which is what I had originally thought the question asked. Hmm… all I can say is TOO LATE… I'm on the home stretch with this mini-blog series and it's almost over. I am not going back. That said, I've really enjoyed having to write about my year of professional learning and taking the opportunity to synthesize and summarize my learning into 6 words… then challenged to describe what those words really mean to me in context to my professional learning experience in 2018/19. In many ways, it's much like getting students in BC to summarize their learning with respect to the Core Competencies in a student self-reflection. It's a challenging task and would challenge other teaching professionals to take this challenge on as a blog or written journal.
OH YAY… now it's my time to reflect and comment about EDCI 568 at UVIC with Dr. Valerie Irvine (@_valeriei) and #TIEGRAD. Valerie is an assistant professor and co-teaches this course on Social Media and Professional Learning with her college who teaches research methodology. They co-teach their course online… or at least it is accessible online. I love her point of view that technology makes learning accessible and breaks down barriers to those who seek higher education. So, as you can see in the selfie photo above, some students access her course online while other can attend face-to-face. I love this idea!!! What's more incredible is, they co-teach their courses within 3-weeks in the summer as a "kick start" to their Master of Education program in Technology Education. (OK. I will admit, I may not be getting the terms exactly right, but its the BIG IDEA that I am focussed on.) Anyway, Valerie and her colleague invited guest speakers from Twtitterverse to impart some wisdom, expertise, or insight on education, social media, and professional learning. I was one of them. She just asked and I accepted.
Why did Valerie invite me? I'm the "regular shmoo"… a teacher in the field who uses social media for professional learning. My expertise is my use of social media as a teacher and teacher educator… as consumer and contributor… as a member of the #bcedchat co-moderator team… and well, an exemplar that ANYONE CAN DO THIS. This is so true. I would also like to say that writing this blog is my opportunity to write about this professional learning experience. It was incredible. This was the first time that I got to chat with Valerie even though we've been following each other on Twitter for years. We also had the opportunity to chat online via video chat to sort out some of our ideas but also get to know each other. I had so much fun in these conversations. I want to learn more about what she is doing in her research but also what's she's doing with her #tiegrad v.2 MEd cohort at UVIC. She invited many speakers to her class who were members of her #PLN and how graciously shared their time and expertise to be a part of her class. I LOVE THIS. Can you see that I am getting excited!!! THIS IS EXCITING!!!
This is the power of social media. Send me a DM on Twitter. Ask… and you shall receive. Anyone is accessible on Twitter. I've heard many stories about "regular educators" making connections with "edu-gurus" or educational leaders and having a conversation AS EQUALS. Twitter (as one social media platform) levels the playing field. Our ROLE on Twitter is as LEARNER… that's it. We are all learners on Twitter. That's the fun part of using social media as a means for professional learning. It's a place where I can share my blog, but my blog helps me to think about what I am thinking about… oh yes, METACOGNITION. I feel more INTERCONNECTED to my PLN and others in the teaching field. Some also use Facebook and Facebook groups as a means to connect, share, and learn. I was so happy to connect up with Valerie's class who you can follow online at #tiegrad. I am so interested in what they are doing and the momentum that Valerie is discovering with her class as to how we can use technology to teach and learn. My #bcedchat co-moderator and friend, Ian Landy (@technolandy) joined me as we co-presented during Valerie's class. He's AMAZING because he inspires me with his work and learning activity on social media. That's how Ian and I have met… on Twitter. That goes the same for Valerie, Janet, and Rose (everyone that I have mentioned in this blog).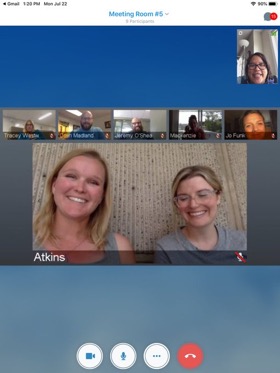 I also want to mention that Valerie and #tiegrad took this notion of using technology and social media further by hosting a #tiegrad #EdCamp. I was so impressed. I saw the invitation… on Twitter, of course… and started engaging in the TieGrad EdCamp journey. I've been to a few EdCamps before and this EdCamp mimicked EdCamp beautifully, but all online. We registered, suggested a topic (or two), we voted on topics, and 5 topics were chosen for our online one-hour EdCamp. It felt exactly like EdCamp but it was virtual. There was no way I was going to miss this event… but I was experiencing some EXTREME technology issues that week (and a few weeks before), so I attended this event on my phone. It had to be done and was so glad to make this event. Topics ranged from digital citizenship to Indigenous Education. I attended Indigenous Education.
Valerie had 5 virtual places open, one for each EdCamp topic and on that Monday at 12pm, we "jumped in with two feet" and attended the #tiegrad #edcamp topic of choice. You can stay or you can go. That's the premise of EdCamp. No feelings are hurt if you leave because you are the agent of your learning. YOU CHOOSE what you want to learn… and if that topic is not for you, then leave and join another group. I was super stoked to join the Indigenous Education group, especially after working with FNESC on the Math and Science Teacher Resource Guides. I reconnected with some of the grad students from the #tiegrad program and met a few other people who joined the group who were personally invited by Valerie but also were researchers or experts in the field. I really appreciated talking to a group of BC educators about Indigenous Education and talking about some comprehensive projects some of the MEd students are considering. I also loved having the opportunity to share what I've learned as a non-Indigenous educator about Indigenous Education with other non-Indigenous (or settler) educators. It was a chance to emphasize that choosing NOT to include Indigenous Education into your classroom in BC is a privilege, thus it is a moral imperative to do so. Anyway, what I realized is, non-Indigenous educators need more time and opportunities to discuss in a safe, collaborative place talk more about Indigenous Education and our practice.
Wow… submissions for my mini-blog challenge was intended to be SHORT and SUCCINCT, but as you can see I'M EXCITED. I can keep talking this and I AM LEARNING. I will be teaching the EdTech course at UNBC this school year and this was an excellent exemplar and professional learning opportunity as to how to embed technology into teaching and learning. Although we were initially discussing professional learning and social media, this is really about how we can make learning accessible, dialogical, and engaging via technology. This is a social justice issue and Valerie has brought that to my attention. Thank you Valerie for inviting me to be a part of your #tiegrad v.2 class this year. I loved it. I'm learning. And, I am super excited about the potential of technology in the MEd programs at UNBC, the BEd Teacher Education programs at UNBC, and K-12 students.
PS. Both photos were taken with permission from the UVIC #tiegrad students and EdCamp participants to take and to post. Thank you for for inviting me into your class and I am super excited for you and your professional learning in your MEd program.