20 days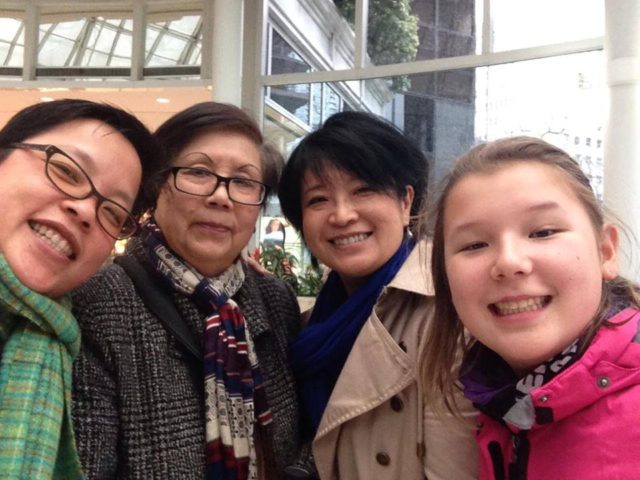 I was always so happy when my mom would agree to take a selfie with me and the family. It was a rare moment. She did not particularly like taking photos. In fact, she hated them. Ironically, I think she takes the best photos out of all of us in the family. I guess she was modest that way… or vein. I say that kindly as I know how she feels when someone takes photos of me. This is my webpage about a book I am about to write… 20 days. At first, I thought I could write it in 20 days… That was an unrealistic goal. That said, it's a tribute to my mom. She is an incredible woman. I realize this more each day.
We just celebrated her 81st birthday. June 27th. She would probably hate that I'm sharing anything about her online. We'd remember my mom's birthday with the numbers"627." It is one of the phone numbers prefixes in Prince Rupert, BC where we had lived together as a family for more than 20 years. Anyway, this webpage is an opportunity for me to make my writing and work visible. She is my superhero. I'm not sure how she's done it, but I hope to write about her and make her proud. I will keep you updated as to how my writing evolves. This is a step into a different direction, yet the same. There is much teaching and learning to be had. My mom is my greatest teacher. I am proud of her.
Disclaimer: This book is written from my point of view… non-fiction… and I may embellish from time to time to fill in some gaps with random personal thoughts. I know that each member of my family has a different point of view of my mom's story, so I am compelled to tell how I saw things as "number three" and hope that I write a fair depiction of her during the 20 days. My mom inspired me to write this book. I never considered myself a writer, but I do consider myself to be a teacher and learner. My dad wrote a self-published book about his memoirs that you can purchase online at Amazon.ca. "My Life's Journey in Surviving Times – A Memoir. https://www.amazon.ca/My-Lifes-Journey-Surviving-Time/dp/1460253582 My mom was never one to share her stories. This is me doing some forensic science and taking the opportunity to share some of my mom's stories.
I am super stoked to move forward with this project. My mom had always wanted me to find a job I love. I love to teach and learn… but I am also about finding new passions and challenges. Completing my dissertation was a lifelong miracle that I had achieved last year and it reminds me that we can do anything that we set our minds to. What brings you joy? What do you want to do in your life so that when you look back at your life you are not riddled with regret or despair? I want to write a book and there is no better starting place than with my mom. I do have other book ideas on the go, like "math stories" and "butter or margarine" but I feel that this is the time to write 20 days.